We find a fragmented space without an apparent order. A space that has been adapted to the needs of the business over time.
We started the project by organizing the program in two clearly differentiated spaces.
A first exhibition space with a more public character and directly linked to the street.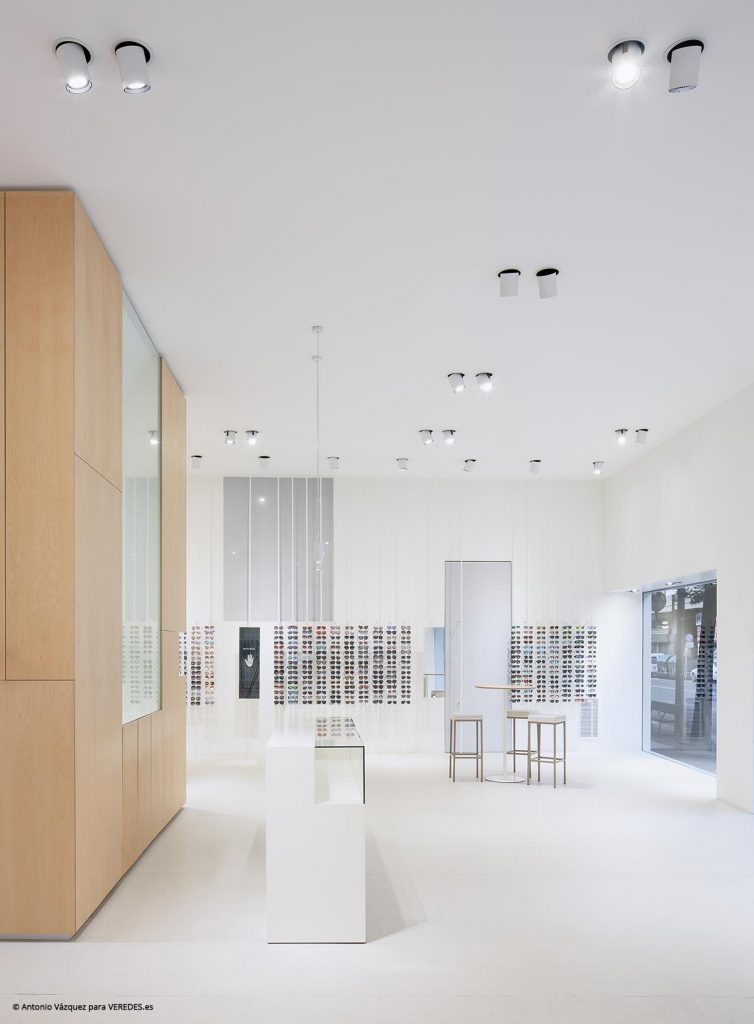 Space understood as a small square attached to public roads. Square that articulates, is organized starting from a central volume, as if it were a kiosk. A volume that in turn generates other spaces with their boundaries according to their location. Spaces, areas with different qualities that respond to the required program.
In this volume, box, we locate the heart of the program where the product then exposed is generated and manipulated, the workshop. A workshop that is exposed to the public to see and be seen through a large window.
A second space with a more private nature will organize the rest of the program in a more conventional way: consultations, bathroom, storage room, waiting room, staircase …
Following the simplicity of the initial approach, we also apply it to materials. They are reduced to the minimum to emphasize and give value to the exposed product. Natural oak wood in the workshop box and chairs, white lacquered MDF type for the furniture (customer and counter tables), vertical backlit white lattice for the exhibition of the product and to finish a broken white linoleum on the entire floor it will finish unifying all the spaces.
Work: Riojana Optics
Author: Blur Arquitectura
Location: Logroño, Spain
Total area: 319.11 m2
Total useful surface: 272.58 m2
Year of construction: 2017
Builder: Construcciones Bauza SL
Partitions and Ceilings: DeCorta Decoración SL
Electrical installation: Chema SL
Air conditioning installation: Comercial Romero SA
Lighting: Osaba Lighting
Graphic design: Sidecar
Photographs: Antonio Vázquez
+ blurarquitectura.com
Búsqueda para satisfacer el conocimiento de la actividad arquitectónica y tangentes que se generan. La idea es crear un espacio para divulgar los diversos proyectos en busca de nueva inspiración y de intercambio.