Across an explanatory route for studies of architecture you will be able to find projects and professionals who expose his works giving space to share with other international architects an exhibition. The only opportunity to know first hand the workshops and to take contact with the architectural reality. Beside enjoying a sample the projects of the own study, I spread them they will be enabled to show representative international projects in a new format. The model OSA is a joint initiative of the magazine Creactivistas.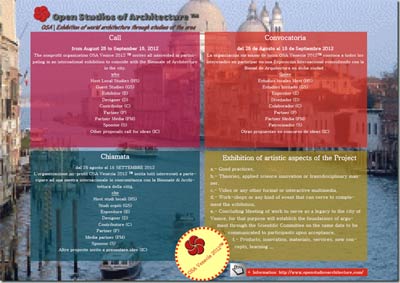 We organize the creation of an explanatory route in collaboration with local studies of architecture that give his support to architects of other nationalities to realize a tour for Venice in order to visit these professional spaces enabled like expo for architects. Hereby the sample will allow the diffusion and I contact the architects and local projects beside using as support and support for the diffusion of emergent architecture of the international area.
On this offer we meet to the visitor of Venice the possibility of doing this route for the city to know the local studies of architecture and at the same time the alternative sample that we prepare.
We are inviting architects of any nationality to realize offers to incorporate them into the sample that we will realize with base in these qualified spaces. Giving preference and opportunity to young or emergent architects as alternative sample.
Búsqueda para satisfacer el conocimiento de la actividad arquitectónica y tangentes que se generan. La idea es crear un espacio para divulgar los diversos proyectos en busca de nueva inspiración y de intercambio.