Combination of textures and materials contrasting the warmth of the wood with the hardness of concrete and raw steel, playing with different luminosities, achieving a renewed and attractive set in response to the initial state.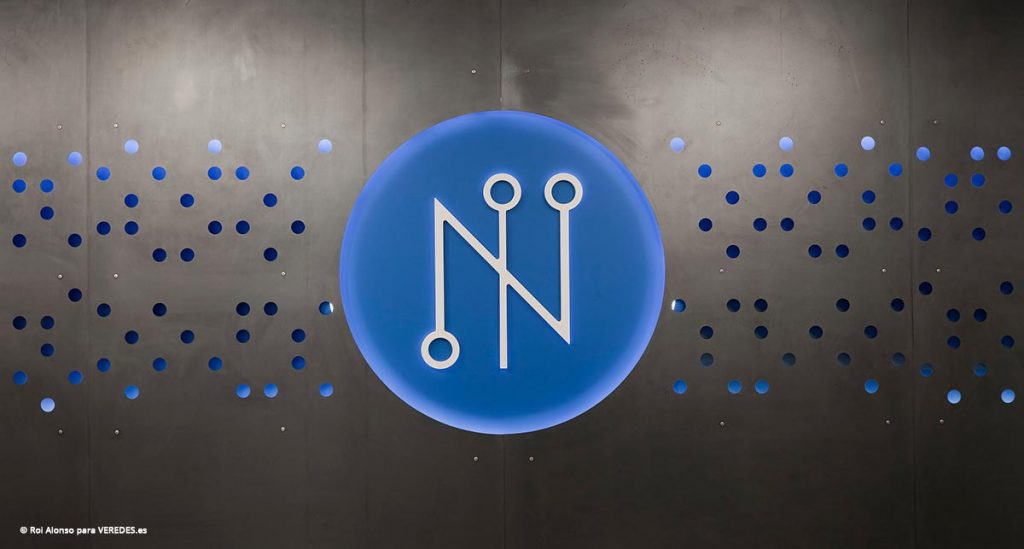 The challenge posed by this narrow and dismal place was to obtain a representative space for the main headquarters of the company INELTRON, and that this would serve as a letter of presentation, projecting a renewed image before its clients.
The proposal, mainly, to release as much as possible all the interior space so that natural light is dispersed throughout the premises demolishing almost all the existing partition walls. In the general area of work, white and bare walls and roof are complemented with an industrial floor in microcement and a continuous wall of sheet steel stamped in raw, which runs throughout the entire premises, characterizing and giving uniformity to the different spaces.
A large part of the furniture is made to measure with pine fiber countermembrane panels valsain, main character of the proposal, which through curved and sinuous forms manages to provide warmth and personality to each of the rooms. A "large organic table continues" colonizes the general area of work. The furniture of the private office, at the back of the room, as well as the office-kitchen area is also made of this wood. Sliding folding doors, also in wood, open and close, at will, the space of the meeting room towards the entrance and waiting area.
All the installation of electricity and lighting is carried out on the surface, with custom-made metallic elements, such as switches (from the stamped circles of the sheet metal on the wall). The luminaires are formed by L8 LED tubes hanging directly from the bare ceiling of white concrete vaults. The blue wiring helps integrate these elements into the overall and corporate design.
The final set results in a combination of textures and materials that intermix the warmth of the wood with the hardness of the concrete and the raw steel, all seasoned with a warm light in the access area (office, entrance and meeting room) and cold in the work area (common area and office).
Work: Grupo Ineltron SLU Offices
Author: as-built Architecture
Project team: Moncho Rey, architect / Pablo Ríos, interior architect
Location: Rúa Nova, 19, Betanzos (A Coruña, Spain)
Area: 99 m2
Photography: Roi Alonso
+ as-built.es
Búsqueda para satisfacer el conocimiento de la actividad arquitectónica y tangentes que se generan. La idea es crear un espacio para divulgar los diversos proyectos en busca de nueva inspiración y de intercambio.