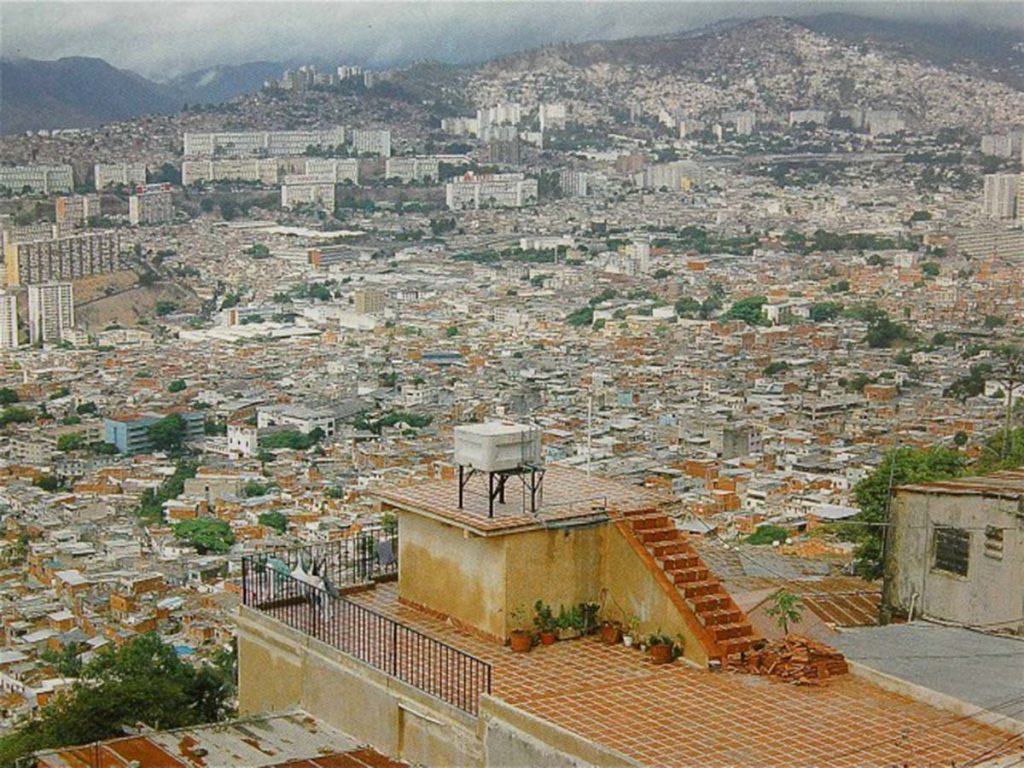 We tend not to think about the city, or in other words, not to think about the city, but in terms of gratification or conflict. The city pleases us, welcomes us, stimulates us, or the city rejects us, is negative, closes our sensibility. That is why we are able to see in it, on the one hand the bright or attractive, what is worthy of being "landscape" in the sense that children give to the word; that is, something beautiful. And in contrast, to the chaotic, the conflictive, the absurd, what we feel as a negation and we would generally like to hide when it is not part of a conversation that all Venezuelan people have today about the deteriorating crisis we are experiencing. Of rest, in a certain way the city "passes" for us or we "pass" through it, without perceiving the nuances, the inflections. And for that reason, for that lack of discrimination, for that absence of acute observation, most of the people that the city inhabits are incapable of recognizing their own personal point of view about what surrounds them in that complex environment that is the contemporary city. They lack "position", are able to accept too much of the bad or settle for very little of the beautiful.
And one as an architect has the persistent desire to awaken in people a greater sensitivity about what the city teaches us as a physical phenomenon, that is, from the vision that I have of it as a construction, because the city as the realization of a society it conditions the existence of modern man and determines in the most intense way patterns of behavior, habits, responses to stimuli, which end up being an integral, inseparable part of an attitude towards the world. We all know in addition, and as we know it is not known, that these individual behavior patterns break into the dynamics of family life.
One is also obliged to avoid forgetting; and our daily journalism does it with the same frequency as the technical discourse of traditional urbanism, that the city as a physical phenomenon is more than just traffic, public services, construction regulations, higher or lower housing densities , pollution or purity of the air, all aspects of the urban phenomenon whose perception seems to be more accessible to the general public; but also beauty, atmosphere, color, proportions, balance, enjoyment of the landscape that it generates; we speak of the values of architecture but also of the things of the spirit we could say, aspects that tend to be set aside when public action on the city is demanded or judged, and yet which directly affect the intimate nucleus where It unfolds our life: in the family, in the small world in which our most expensive affections are born and grow.
We can say then, in summary, that the behavior patterns of the family, within itself or from it to the outside, are strongly determined by the city as a construction, as architecture. And in addition to our well-known issues such as transportation, traffic difficulties, the domain of crime, or the absence of decent public services, there are other more subjective aspects, more linked to our privacy, which have a decisive weight in that determination.
But if we can agree on that, it is more difficult to accept that there are differences, for example, in equal economic conditions, between the A family that lives in a neighborhood subject to the typical difficulties of marginality and B, who lives in a more consolidated urban sector, with less sonic pollution, with more accessible public space for children's games or a minimum adult recreation, less exposed to criminal violence. A difference that could lead family A to develop, speaking in psychological terms, a particular pathology, a pattern of sui-generis behavior, in a certain way uncivilized, alien to coexistence. We would recognize in it something like a "negative weight" if it were to be compared with the B family.
But as difficult as it may be, that is exactly what is recognized today in the world in general when fighting for what is called "a better quality of urban life": there is consensus that the greater or lesser quality of urban life it affects citizen behavior. It is no longer disputed that a better city, in which both the utilitarian aspects and those that contribute to the psychological well-being of the individual and his family become a priority objective of public action, is the most important instrument to stimulate the development of better human beings, better citizens. It is tacitly recognized that there are "differences" between citizens depending on the urban environment in which their individual and family lives. These differences do not refer to personal abilities, but belong to the space of "culture" understanding here by culture the way of living in the city, the way of interrelating with others, the way of making public what is theirs, the way of occupy the "civitas¨. It is a difference similar to that established in terms of international law between developed and less developed nations.
That simple concept has not been understood by our trash revolution. He has not even been able to link his "new man's" discourse with his responsibility to promote a radical improvement of city life. In nine years of power, what it has produced is the erosion of public space, degradation, neglect and abandonment, particularly in the capital. It is still obscured by concepts that were "revolutionary" in the nineteenth century, vain words that have no correspondence in action. It has not been able to be placed in its historical time.
And if this caudillo-militarist madness should lead to greater lucidity, a better life in the city has to be a central objective. I hope it understands the political world.
Óscar Tenreiro Degwitz, Architect.
Venezuela, january 2008,
Entre lo Cierto y lo Verdadero
Es un arquitecto venezolano, nacido en 1939, Premio Nacional de Arquitectura de su país en 2002-2003, profesor de Diseño Arquitectónico por más de treinta años en la Universidad Central de Venezuela, quien paralelamente con su ejercicio ha mantenido ya por años presencia en la prensa de su país en un esfuerzo de comunicación hacia la gente en general de los puntos de vista del arquitecto acerca de los más diversos temas, entre los cuales figuran los agudos problemas políticos de una sociedad como la venezolana. Tenreiro practica así lo que el llama el "pensamiento desde y hacia la arquitectura", insistiendo en que lo hace como arquitecto en ejercicio, para escapar de los estereotipos y cautelas propios de la "crítica arquitectónica". Respecto a la cual no oculta su desconfianza, que explica recurriendo al aforismo de Nietzsche sobre el crítico de arte "que ve el arte desde cerca sin llegar a tocarlo nunca".