Santiago Catalán, that from small walked to the tenderloin of the world and of his people, decided one fine day to come to give in Chairego-and not only for marital consortium's reasons – with the naturalness of who knows that comes back to step, now with feet of the body, so many paths' flagstones earlier only imagined. And thus, with the confidence of which already are maison, comes today offer it to us here, in the core of the Earth Cha, leaving that emerge from the inside of that profundísimo mirror that is the paint countless intimate promises that an idea world reflect over images, of feelings before figures, of desires in front of the line and of the color. Catalán is a certainly grateful painter for anyone who lack authenticate criterion to say of paint and that us know disabled to enter the labyrinth of his critic. And is thus because his work stimulates to that small Freud that all take inside and invitation to the writer to be gotten around for spaces that him are more own and in which decreases considerably the fear to be slipped and, above all, the to damage in the fall.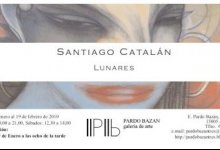 "I paint women because that is what me goes out..", it tells the artist and thus it check the rest of them, who knows if arranging us to fall in the pedantic exercise of him to try motivations of approximately cumbersome character to a behavior that, after the explanation for him admits, results obvious and it does not require great clarifications. Maybe would be able to singularizar the noun: Santiago Catalán dot –o feels that should paint – the woman. And not only the gap of the humankind but the gap of all species, the one which possesses the brilliant skills of suggesting in the rest of them every new life drop before granting completely.[…]
Paco Martín
+ www.coaglugo.es
Búsqueda para satisfacer el conocimiento de la actividad arquitectónica y tangentes que se generan. La idea es crear un espacio para divulgar los diversos proyectos en busca de nueva inspiración y de intercambio.