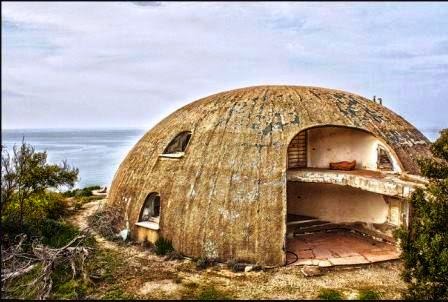 Jean Michel Frodon in his article " Venice: of the cinema to the Biennial one … of architecture ", published in the last number of Caimán Cuadernos de Cine, he writes on the exhibition Monditalia, included in the Biennial of Architecture of this year and his amazement before "the revelation of the Cupola, the extraordinary villa constructed privately in the middle of the sixties by the visionary architect Dante Bini for Antonioni and Monica Vitti on the Coast Paradise of Sardinia".
The truth is that it did not know this building, not his circumstances. Bini projected the building, according to the Wikipedia in the seventies, though there are other sources where they date it in 1969 and also they affirm that Bini constructed two houses with form of dome, which can be stated thanks to the Google Maps, bigger for the director and other one for the actress, that also they lived separated in Rome, in two floors communicated by a stairs that in the moment of his separation was closed and on whose fingerprint the following wife of Antonioni placed a carpet that it was raising he to be taught to the visitors by the tracks of the previous love of his husband.
Returning to Sardinia, the dome was constructed by armed concrete, using air compressed to raise it, a constructive system invented by Bini, to do what Binishells named, and with the one that has made other thousand six hundred of these objects in twenty countries, someone with a diameter of forty meters. With regard to this one, according to account Bini,
"Antonioni was obsessed by the smell of the sea, the materiality of the rocks and by the aroma of the local vegetation".
In another place Bini's recollections are extended, apparently Antonioni said to him:
"I do not want a house, but a three-dimensional space"
adding
"I hate the apartments, want to live in a sculpture that is escavada in the rock, that huela to the surrounding nature. The architecture is not only shade and light, must be also a smell have you tried to feel the smell of a stone?"
then it took a chunk of red granite and brought it over to the nose of the architect, already enough confused by his question.
"I want a house with smell of stone. With a bed that huela to juniper and I want that there is a sound" "a sound?"
he asked Bini.
"It had never heard not equally at all".
Antonionii said to him then:
"Come, listen to the sound of the marine waves. My house must have inside this sound. I want to listen to the wind that comes from the sea".
It would be interesting to know if besides these "sensory" indications. Antonioni influenced something more the design of the building and if these influences had some relation with his movies and with his extraordinary capacity and inventiveness to show the architectural and urban spaces.
In the biggest Cupola enough memorable holidays were celebrated, and it is a shame not be able to have attended anyone of them with a dry vermú in the hand and surrounded with interesting people, but when the director and the actress separated it was left, now it is almost in ruins and surely it will disappear. The buildings, though inanimate also they have soul and have to suffer the embates and dislikes of his animated owners.
Jorge Gorostiza, architect. Author of the blog Arquitectura+Cine+Ciudad
Santa Cruz de Tenerife, october 2014
Doctor arquitecto, proyecta y construye edificios y desarrolla trabajos de urbanismo. Desde 1990, publica numerosos artículos sobre cine y arquitectura en medios de su localidad, revistas como Nosferatu, Nickleodeon, Academia, Lateral, Cahiers du Cinema… y en varios volúmenes colectivos. Entre el 2000 y el 2005 dirige la Filmoteca Canaria. Imparte conferencias sobre arquitectura y cine en instituciones como el CAAM en Gran Canaria, la UIMP, el CENDEAC en Murcia, INCUNA en Gijón, Fundación Telefónica, la ETS de Arquitectura y el CCCB de Barcelona, las ETS de Arquitectura de La Coruña, Sevilla, Valencia y SEU madrileña, La Ciudad de la Luz en Alicante, la UNED en Pamplona, en varios colegios de arquitectos, así como en las universidades del País Vasco, Gerona, Valladolid, Málaga, Granada, SEK en Segovia y CEES de Madrid. Jurado en varios festivales cinematográficos, como los de Alcalá de Henares (2001), San Sebastián (2002), Sitges (2003), Las Palmas (2005) y Documentamadrid (2005), y comisario de las exposiciones Constructores de quimeras. (Centro Conde Duque, Madrid, 1999) y La arquitectura de los sueños (Capilla del Oidor, Alcalá de Henares, 2001).
He publicado bastantes libros y muchos artículos, he impartido conferencias, he sido comisario de exposiciones y jurado en muchísmos festivales. Si quieren saber más no duden en consultar mi blog ARQUITECTURA + CINE + CIUDAD.