The DAYS WOMAN And ARCHITECTURE: EDUCATIONAL EXPERIENCE, RESEARCHER And PROFESSIONAL frame  in the context of a project of investigation wider and his aim is to boost the debate around the fear woman and architecture from the perspective of the own work, realise  this in field of the free exercise, of the teaching, of the public function, or in relation with another activity out of the conventional courses, but no thus with a content less arquitectural. They organise  two consecutive days, in the first of which tackles  the subject from a general field, with the participation of Carmen Espegel and of Zaida Muxí, professors both of the ETS Architecture of Madrid and Barcelona, respectively. To Carmen Espegel has proposed him  like subject the one of the pioneers, those women that have initiated the senda of the architecture like professional dedication breaking social roles and professionally predetermined, whereas to Zaida Muxí has entrusted him  that it speak us of the first generations of the Catalan architects in relation with a territory and an own identity. A round table vespertina in which they will participate the two quoted speakers as well as diverse professors of the ETS Architecture of A Coruña will close this first day.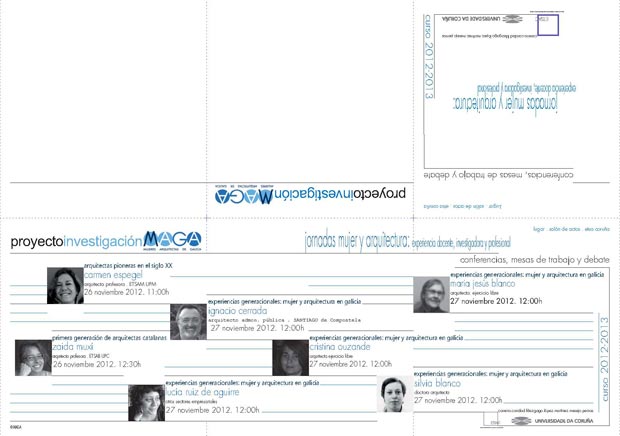 In the second day the subject centres  in the woman and architecture in Galicia, from the vicinity that provides an exhibition with a format of 5×18, five speakers with eighteen minutes of intervention for each one of them. It will manage  this session with the participation of professionals of distinct generations and whose work discurre in diverse fields, well like protagonists in the case of Chus White, Cristina Ouzande, Lucía Ruiz or Sivia White, well like viewer and mate in the case of Ignacio Enclosed. The day will finalise with a table of work and discussion in the session of afternoon in which they will participate the speakers, the integral researchers of the MAGA group and a number restricted of invited.
Búsqueda para satisfacer el conocimiento de la actividad arquitectónica y tangentes que se generan. La idea es crear un espacio para divulgar los diversos proyectos en busca de nueva inspiración y de intercambio.