External interiors [I] | Íñigo García Odiaga 
This text is the second part of a writing that is the comparison between two houses the Azuma House constructed by Tadao Ando in 1975 in Osaka and the Moriyama House finished in the year 2005 according to SANAA's project, in which one tries to think about the ambiguous thing between interior and exterior in both housings.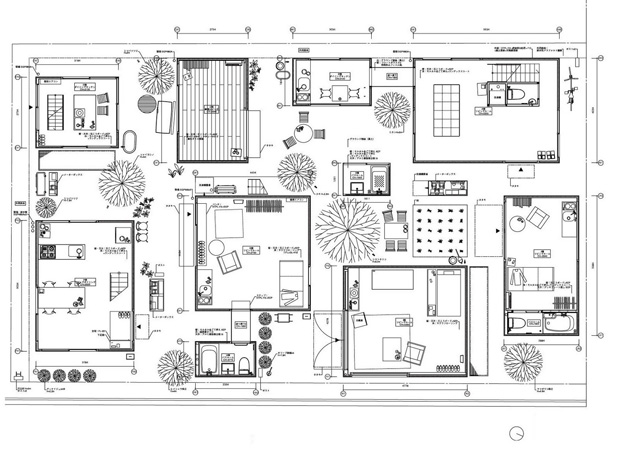 La casa Moriyama se sitúa en un barrio central de Tokio, un barrio residencial que mantiene un cierto grado de tranquilidad respecto de otros distritos más bulliciosos de la ciudad. El paisaje urbano está constituido por una gran acumulación de viviendas unifamiliares de baja densidad, que generan una estructura urbana que podríamos calificar de tradicional. En medio de este panorama urbano destacan de manera especial una colección de prismas abstractos que parecen establecer sus propias reglas dentro de una parcela alargada que da a dos calles.
El contraste con los edificios colindantes es radical, los ornamentos, remates o texturas de las arquitecturas tradicionales del barrio han desaparecido aquí por completo. En un primer vistazo podría pensarse que los diez prismas blancos, de alturas y dimensiones diversas han sido colocados de forma azarosa, guiados por unas reglas aleatorias, casi como si se tratase más de conjunto escultórico o un monumento que de una vivienda. Sin embargo el estudio de las relaciones entre los huecos y puertas de los diferentes volúmenes, aportan pistas sobre las leyes que relacionan las diferentes piezas, ya que unen algunas o separan otras, generando subconjuntos dentro del grupo inicial.
And it is that the house Moriyama is actually a complex of housings that understands a concentration of several minimal housings distributed in the random landscape of ten white prisms. Some of these housings are of an alone plant, some of two floors, others have three plants, and some of them have a basement. Some day all these pieces, all these stays or if all these places are preferred they will be used only by the family Moriyama, but at present great of these units they are rented to diverse users. Therefore the own house is a small community, a small neighborhood inside the neighborhood in the one that is located. Each of these mini houses expands in the exterior garden, a common but meticulously ruled space in order that every portion of the area serves the only concrete inhabitant. The whole plot turns this way into a community garden, in an exterior space that in certain way is essential for the functioning of this small collectivity that shapes the house Moriyama.
But no doubt what more calls the attention of this space is his total continuity neither with the street, nor hedges, not even fences separate the lot of the plot of the adjacent streets. The individual thing, the life deprived of the residents is not mixed only by other residents of the Moriyama, but without interruption by the entire city.
If the interior space is the space of the private life, and the street represents the space of the public thing, in this house the limits between these worlds prove to be blurry, diffuse. Somehow this blurry world moves even like naming the things. The house Moriyama is a house, an one-family housing, but it works as a group of one-family housings, therefore it might constitute for yes alone a small neighborhood. A neighborhood in which the small garden, it would not be a private garden, but rather a public space, that is to say a street or a square of the collectivity.
It is by means of this process of multiplication on a large scale in that a unit there contains at the same time Superior, for whom the limits get blurred between the house, the neighborhood and the own city. An idea that he sends directly to the hypothesis enunciated years ago by Aldo Van Eyck:
"Tree is a leaf and leaf is a tree. House is a city and city is a house. A city is not a city unless it is also an enormous house, a house is a house only if it is also a tiny city."
Íñigo García Odiaga . architect
San Sebastián. may 2013