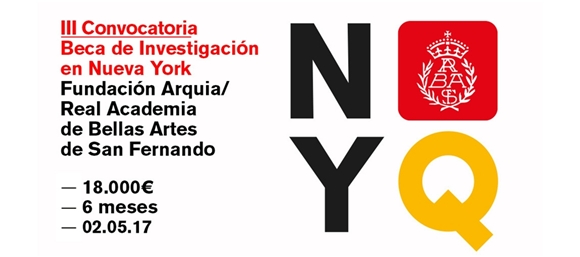 The Foundation Arquia, in collaboration with the Royal Academy of San Fernando's Fine arts, calls a scholarship for the development of a project of investigation to realizing in an academic center of recognized prestige in New York, in order to create the conditions and to facilitate the means to stimulate the investigation in the area of the Architecture.
A scholarship is summoned, in regime of public contest, for the accomplishment of an innovative project or of investigation in the area of the Architecture in the city of New York, which helps to do of the Royal Academy a platform and laboratory of international experimentation of the Spanish architecture.
The scholarship tries to stimulate the project accomplishment of investigation in the area of the Architecture providing opportunities for his creation, development and communication, offering the conditions to the candidates and facilitating the means for his development as support to his efforts and to his initiative.
Likewise, the program promotes the international mobility, understanding it as a wealth-producing factor of the personal development.
The graduates will be able to choose to the scholarship as top architects in any of the Technical Top Schools of Architecture of the Spanish State, the foreign architects with residence licence and title obtained in Spain and the architects with title obtained out of the country and authorized in Spain.
The inscription to the contest arquia/investigación only can be realized across the system of on-line inscription, completing the form enabled for it.
Opening summons: on February 1, 2017
Period of inscription and sending: on February 1 to May 2, 2017
Results: July, 2017
Development of the scholarship: September, 2017 to March, 2018
Búsqueda para satisfacer el conocimiento de la actividad arquitectónica y tangentes que se generan. La idea es crear un espacio para divulgar los diversos proyectos en busca de nueva inspiración y de intercambio.