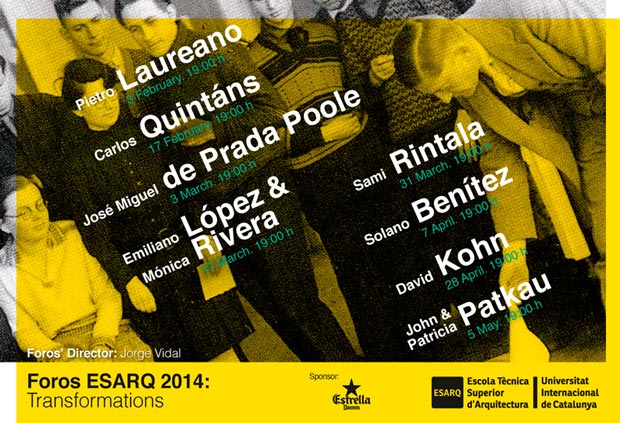 Forums it is a cycle of conferences where every two weeks an invited architect shows his work. Every year we choose a group of architects that we believe be precise to a principal topic.
The topic of this one year they are the transformations. For us, Transformations it is a point of item, a beginning of the way of return towards that one that each one might consider to be essential. The origin of this cycle treats in reducing to the just and necessary thing our intentions. It looks for the conceptual and emotional source of what surrounds us.
To speak about transformation implies considering the preexistence to transform it supporting part of they in an invariable way, granting his continuity in the time.
The literal meaning of the word to transform is " to happen from a form to other one ". The architects we give form and the processes that this needs are based on changes, adjustments, variations, developments and transgressions. To attend to these aspects, his degree of importance, his implication in the territory, in the landscape, in the city, in the house, in the preexistences … it is a delicate question that it needs to be attentive and sensitive..
This reflection is a necessary exercise in moments as this one where the global supersaturation of everything overcomes us. Sera a point of meeting in which different individuals were expressing the aspects of his personal development that has led them to doing what they do, of being what they are.
The different episodes of this cycle of forum have instants that surely many of us will be recognized by us and on that we will identify. Inevitable moments of doubt or it finances jointly, of success and mistake. But in the end necessary moments to take conscience. On the one hand, we will speak about the urban thing and about his materiality. Of the things that form the city, the landscape and his circumstances. Of how these enter relation some with others and his variations.
It is a question of a forum that it chases to discover a way of confronting the life, the social aspects, the relations, the abandon, the identity and the local power, to form an own criterion. Transformations that make possible that these aspects interact, that the life spends between them. To plan, to make and think architecture it is in the transformation.
Búsqueda para satisfacer el conocimiento de la actividad arquitectónica y tangentes que se generan. La idea es crear un espacio para divulgar los diversos proyectos en busca de nueva inspiración y de intercambio.