The Forum Coast gives Morte expects develop initiatives aimed at achieving the exterior projection of this space and, simultaneously, that the own ones recognise it, consider it and if they compromise with its safeguard and intelligent use. With that object, the Forum Coast gives Morte is constituted in a space of meeting and reflection on the past, the present and the future of the region, on its geographical identity signals, social and cultural, but also on the delay member – economic almost endemic that drags. By way of the thinkers, skilled and artists call for, will be tried to deepen in the recognition and the respect for the own identity such as a way perfectly complementary to aspire to reach an universal voice.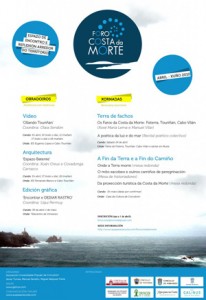 Understand that the attention for the new artistic types is not at all contraditoria with the training of an aesthetic sensitivity respectful with the legacy received from the past. On the contrary, believe that an aesthetic sensitivity contemporary includes (or he should include) inseparably a skills to recognise how much of valuable is in which the tradition was selecting and sedimentando. Against a cliched image and desorientadora of new arts as simple "destructive" of all the "old man", so much the demand creator of the authentic artist, as the aesthetic demand of the spectator demanding, are congruous with one irrenunciable skills to enjoy without inconsistency of the built ways in the past.
+ http://quepasanacosta.com/forocostadamorte
e
Búsqueda para satisfacer el conocimiento de la actividad arquitectónica y tangentes que se generan. La idea es crear un espacio para divulgar los diversos proyectos en busca de nueva inspiración y de intercambio.