It is a question of a pair with the worry to be able to spend to him moments of his life in more direct contact with the nature and surrounded with the essential thing to live.
Of temporary character, the construction of 4m x 3m is located in the area chosen by the pair for the construction of his future house and his permanence is projected depending on the time that they will need to construct it.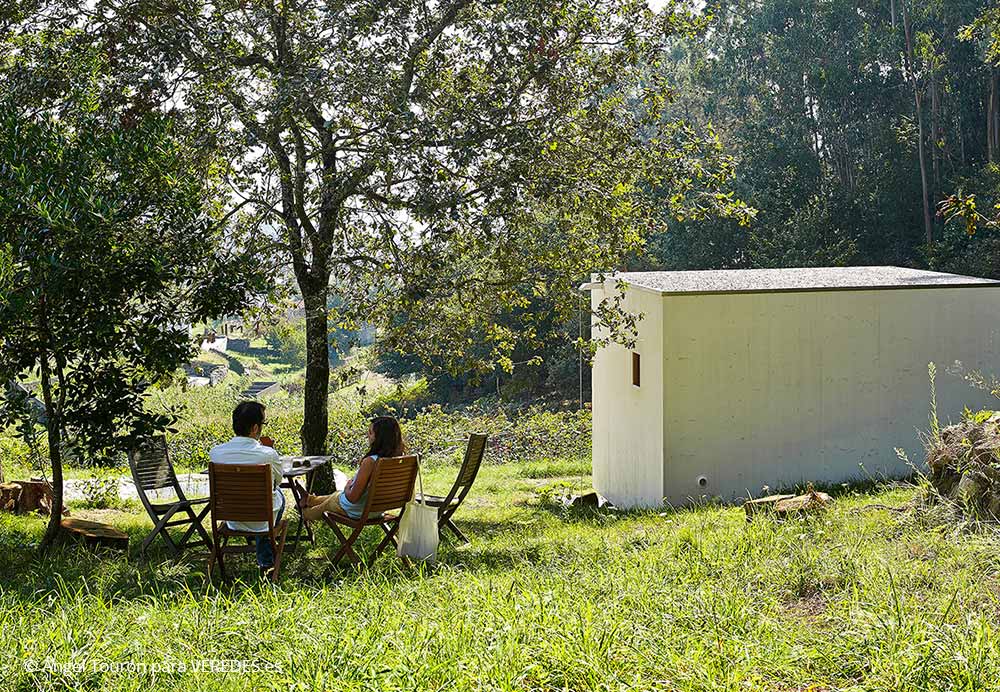 Functionally the refuge turns concerning a principal space of 9,5m². In him, the furniture arrange and despliegan in such a way that the same space can be considered to be room, kitchen or dining room. Hereby, we might say that the spatial sensation of the refuge is not 12 m², if not of 31.
The bath, of 2,5 m² possesses wash basin, a shower and a chemical watercloset that it does to the refuge independent from the network of reparation. The rest of the waters are purified in a raft of macrofitas and return to the area in perfect conditions.
The construction is realized entirely in workshop by boards of fiber of average density in the interior and panels of wood counter laminated of 6cm towards the exterior that closing and structure solve simultaneously.
The choice of the above mentioned constructive system offers a series of technical advantages that reverberate in the facility and rapidity of construction, being estimated an approximate time of execution in workshop of three weeks, as well as in a few qualities of comfort adapted to the use that is done of this space.
In winter, the low thermal conductivity of the wood allows to warm the spaces in a little time and that the temperature is kept in the time.
In summer, on the contrary, the environment is kept fresh thanks to the crossed ventilation and the shade that the trees throw on the construction.
Work: Obra: The Refuge
Client: Private
Authors: castroferro arquitectos | María González Ferro + Jordi Castro Andrade
Collaborators: Joana Covelo Alonso
Direction of work: castroferro arquitectos | María González Ferro + Jordi Castro Andrade
Year: 2014
Location: —- Galicia, España
Photography: Ángel Tourón
+ castroferro.com
+ Award
COAG Award 2012-2014 in the category of Low Cost
Búsqueda para satisfacer el conocimiento de la actividad arquitectónica y tangentes que se generan. La idea es crear un espacio para divulgar los diversos proyectos en busca de nueva inspiración y de intercambio.