If there is an architect tied to a city, and, furthermore, if there is an architect tied to the urban development development of a city, this it is Willem Marinus Dudok to Hilversum.
Dudok was born in Ámsterdam in 1884, and at the age of sixteen it initiated his military career. It was destined for the colonies of Indonesia, and to his return it served in the unit of telegraphy of Utrecht. With twenty-three years he was a lieutenant, with twenty-seven it married and had a daughter.
This man, who apparently was costing for everything, decided to look for a trade in the civil world and was nominated The Substitute Director of Public Works in Leiden. Where had he learned on works? I do not know it, but I believe that equal he might have been The Substitute Director of the Ámsterdam's Philharmonic one (his father was a violinist, and his mother pianist) or forward centre of the Ajax. There are people that the same thing serves for the torn one that for a gossip.
On the following year the captain's appointment came to him in the reservation and his second son was born.
In 1915, with thirty an años, obtained the Director's post of Public Works in Hilversum, municipality to which he remained linked of for life (and it was long: he died months before expiring ninety years).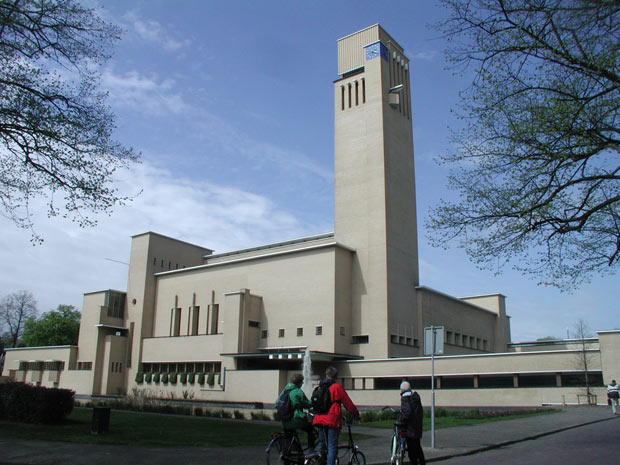 Beside doing Hilversum's Town hall (masterpiece of the architecture of all the times), Dudok took part in the planning schemes of the city, projected his colleges, his residential neighborhoods, malls, etc., with an architectural resounding quality.
I have travelled very little, but I am lucky to have been in Hilversum. It is the marvellous, coherent, clean, clear, most beautiful city. From his exact urban tracings up to the humblest porch for bicycles of his more modest infantile school, it leaks captivation, beauty, sharm and talent throughout.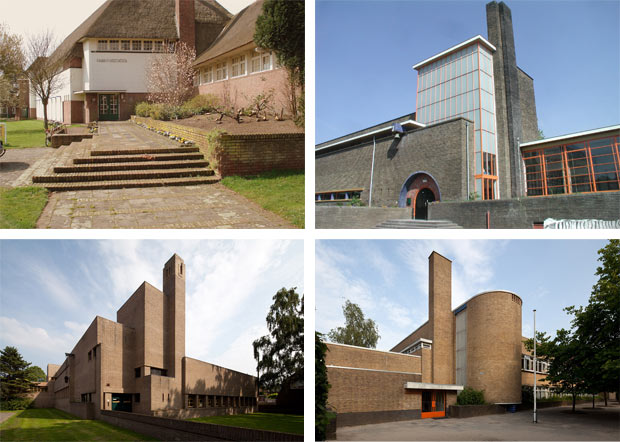 Dudok did a magnificent work, which could coordinate both antithetic currents of Holland: On one hand, his work echoes the plasticity (the neoplasticidad) De Stijl, with his right angles, his planes that "pass of length" in the meetings, flying and going off, opening the constructive box; and, for other one, his round forms and his "tremendismo" takes the expressionism of Ámsterdam's school of thought, with his volumes of brick. So much it is so, without being a member of any of both groups, often he is fitted so much in one as in other one. And it that they did not have anything to see.
Nothing to see? Good: Both movements were adoring to Frank Lloyd Wright.
Berlage, the father or stepfather of all the Dutch architects of the 20th century, was an unconditional admirer of Wright. He constructed the marvellous building of the Stock exchange, in Ámsterdam, loando the building Larkin of the American teacher.
The "children" of Berlage, as all the children, even admiring the father they denied to him, were called him an old dotard and gagá. For De Stijl, his work was ballasted by the ornament, by the heaviness, and was not it sufficiently cleanly or rational. For those of Ámsterdam's School it was everything opposite: too much expressive, "slightly "airy" little, little adorned.
But both currents coincided in being fixed in the model, in Wright. The American is in yes same an encyclopedia of the architecture, and a drugstore for all the diseases. Of his provided well shelves they all took the medicine that they needed, even to take opposite ways.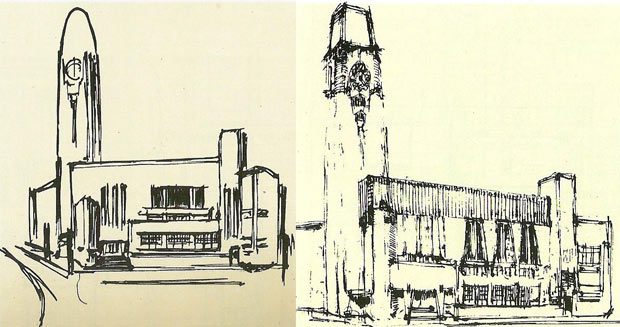 But the good one of Dudok, architect of the second row, of low profile, of modest aspirations, without the transcendent pretensions of some and of others, limited himself to taking what he needed (and what we all needed). Sensibly and common sense, and with an exquisite sensitivity (virtues adapted at all to be an artist of forefront, but indispensable to be a good, useful, sociable and valuable person) he learned of Wright the expressiveness based on the geometry, and the plastic and spatial opening, and, especially, it could leak these educations wrightianas across the unlike works of his compatriots.
It was, therefore, the eclectic one. Not a creator, not one of the big ones, of which they give name to the styles and head the currents. He was a craftsman, who is in the habit of saying scornfully.
(Even today, if you turn the pages of any book of history of the modern architecture, you will find him of spent, in small letter, in tangential, secondary appearances. But you will find him).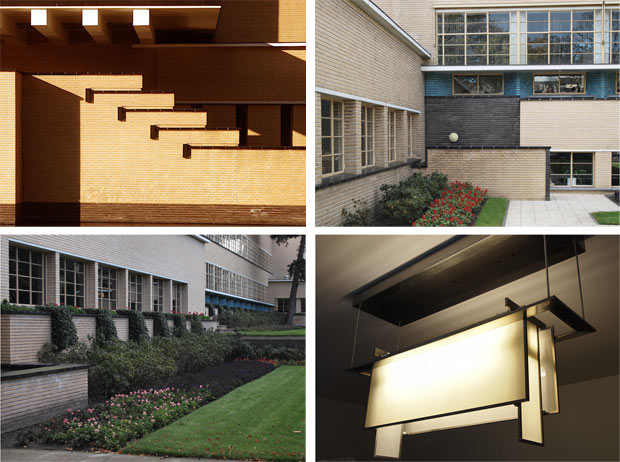 And hopefully there were many cities as Hilversum, which could give him the lujazo of having a municipal architect of this category.
Argan says that Dudok manages to be a police officer without being a provincial. I agree completely. And I will add that from the local thing it becomes universal. (Actually only the category reaches of universally what is strictly local, as Don Quijote, Sean Thornton or Iker Casillas).
Hopefully there was some politician like that, who was capable of uniting divergent trends and of giving practical and happy solutions.
José Ramón Hernández Correa
Doctor Architect and author of Arquitectamos locos?
Toledo · may 2012
Nací en 1960. Arquitecto por la ETSAM, 1985. Doctor Arquitecto por la Universidad Politécnica, 1992. Soy, en el buen sentido de la palabra, bueno. Ahora estoy algo cansado, pero sigo atento y curioso.