The guests of engawa 14 are the study fala atelier, composed by Filipe Magalhães and Ana Luisa Soares. They have proposed us a suggestive image that shows a completely generic space, a non-place, lived temporarily by a seated man, in what it seem to be a waiting room, a space of traffic. On the contrary in the exterior of this generic space an ode raises to the individual, 140 óculos piled up that scrutinize the city: The tower Nakagin.
We look from the another side, imagine us be in the interior of one of the capsules and look in contrary direction, will see a modern building of offices, and if we sharpen the sight perhaps attain to see to a man seated, or can that no, that so only see our own reflection in the dark windows.
To our around 139 windows are looking this same piece of reality. 139 distinct looks, 139 tokios distinct.
Perhaps engawa was a Nakagin in miniature, formed by this sum of individual looks that try to capture a piece of common reality (in shape of photography) and that in his sum, a rudimentary apilamiento, generate a structure with form of magazine.
Thanks to all those that have participated, and especially to fala atelier by his penetrating look to the day in day out of a so complex building like the Nakagin Tower of Kurokawa.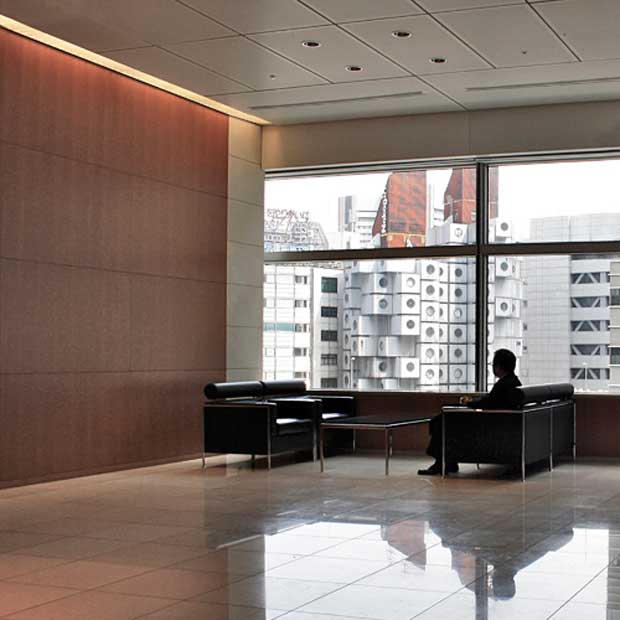 Publishing house
Un futuro que nunca aconteció · Filipe Magalhães and Ana Luisa Soares
Utopía y progreso · Rubén Páez
Operativo Lavadoras · Matías Grimaldi
Corrección · Carlos Cachón
…Y dibujar · Javier de las Heras Solé
Salomé en Ginza · Fernando Agrasar
Una temporada en la cabaña · Alberto Ruiz de Samaniego
10 m2 · Pablo Twose
Ojos que no ven, corazón que no siente · Jorge Meijide
Lo Recuerdo… · Daniel Luis Martinez
Más de lo que vemos · Gabriel Fernández Birriel and François Guynot de Boismenu
Nakagin · Aitor González
Búsqueda para satisfacer el conocimiento de la actividad arquitectónica y tangentes que se generan. La idea es crear un espacio para divulgar los diversos proyectos en busca de nueva inspiración y de intercambio.