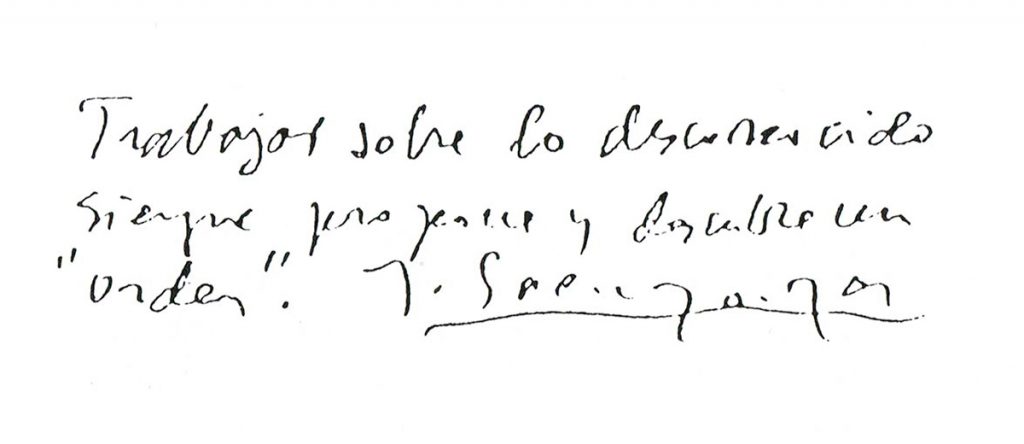 We often remind our teachers both for their works and for their speeches, brief aphorisms in the form of compressed reasonings that so many turns reach over the years. Surely the most classic and well-known "citations" already clustered in the memory, some dogmatic as sentences probably out of focus.
However, some of those concise phrases are ingenious and condensed with a sense of humor in a single word, a single indispensable voice: electrical exercises for biting.
I remember the first time I was able to listen to Antonio Miranda's theory about papanatism or "lela admiration for the exotic," qualifying immediately afterwards:.
"after all, the exotic is the same (from here) but with more feathers".1
Laughter In the same hilarious and at the same time incisive line, very revealing of the universe on which the author goes, there are the José Miguel de Prada Poole´s unforgettable ñoñotopias, an inventor of beautiful structures and atmospheres, sometimes translated into language through employment of a single word.2
Others like Sota resort to French cultism déshabillé as a firm expression of commitment to an austere and unrefined construction, designitis we said years ago to the unnecessary baroque detail, an attitude undoubtedly of papal origin.3
One word will suffice to teach you. Sometimes words become luminous warnings, signs as promises of a way of being and behaving: words attitude. That is when we understand the ability of the best to transmit from the synthesis, beyond the puns and their known "evolutionary" chains: less is more, more with less, less is less, more is more, more or less, yes is more …
It is advisable not to exercise the most recalcitrant of the papanatisms before some of these affirmations. Perhaps the architecture is closer to the story of Oíza and the cow Charito, a lesson about the World of rural origin and the name of a woman4: how much more knowledge can be concentrated. How many classes fit in one word?
Miguel Ángel Díaz Camacho. PhD Architect
Madrid. March 2016.
Author of the Parráfos de arquitectura. #arquiParrafos
Notes:
1 Antonio Miranda, Un Canon de Arquitectura Moderna, Madrid, Cátedra, 2005, pág. 87. p. 87. Then, in a more serious tone, Miranda quotes Gandhi: "the best is the next thing". In fact, papanatism is defined as "Attitude that consists of admiring something or someone in an excessive, simple and uncritical way". Dictionary of the Spanish Language, RAE, 2001
2 There is no written allusion to this term..
3 In an attempt to apply this simple model in the teaching of architecture – always based on the most inclusive sense of humor – we have used words such as pasillitis or tabicosis in our classes indicating slight spatial ailments that are easy to treat, architectural in this case.
4 The story of the cow Charito tells Oíza -in detail- in the monographic issue dedicated to his work El Croquis nº32-33, p. 11 and 12.