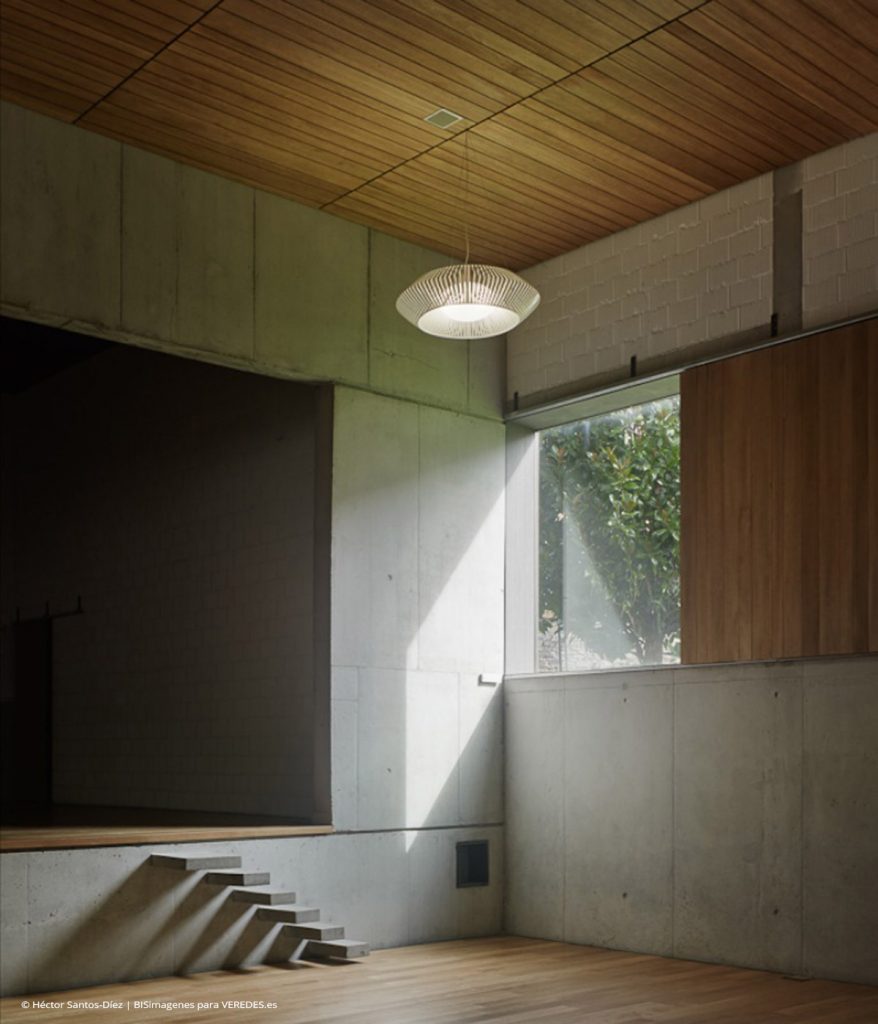 A compact, sober piece, which one seeks to adapt to the local scale.
A civic center that pivota about an emptiness to double height; the foyer like heart of the building, place of meeting, of stay in the steps stairs, of access to the different spaces: room, computer science of multiple uses, general bathroom and offices in the ground floor.
Also they find in this plant the facilities, though with independent access. Independence of the one that also enjoys the room of multiple uses; well to use her of isolated form or as access of service. In the first plant, library and classrooms.
Walls of load of termoarcilla seen, whitewashed in the interior; texture and warmth. Horizontal flagstones of slate in the exterior, economy of means and maintenance. Solados also of slate in access and traffics, of wood in the room, linoleum arrives. Some paraments of carton plaster, some that another false ceiling. Carpentry of aluminium bronze in the exterior, wood in the interior.
Work: Romaño Vista Alegre Civic Center
Location: Santiago de Compostela, Spain
Proyecto y dirección de obra: abalo alonso arquitectos. Elizabeth Abalo, Gonzalo Alonso
Collaboratore: Jesus Garabal, Berta Peleteiro, Luis Adrán, architects.
Structure: Carlos Bóveda, architect.
Facilities: Obradoiro Enxeñeiros. Carmelo Freire, Luis Durán.
Technical architect: Francisco González Varela
Promoter: Concello de Santiago.
Construction company : F. Gómez. Delegate, José Rey. Manager, Lagares.
Manufacturers: Slate, Cupa. Carpentry aluminium, Cortizo, manufacturer, Arteal. Polymers and silicones, Syma. Locksmithing, Emesar, ornamental Lighting, Arturo Álvarez. Madeira, Corral and Couto.
Quality control : Euroconsult.
Project draft: Competition for 27.04.2010, basic project and of execution 24.06.2011
Execution of work: 20.06.2014 – 22.05.2017
Total budget: 937.750,00 €
Built-up area: 948,50 m2
Photography: Héctor Santos-Díez | BISimages
+ abaloalonso.es
Awards.
– 1st reward contest of ideas 2010
– 1st Award. The Biennial International IIIrd of Architecture of Baku. Azerbaijan 2017.
– Finalist The Biennial International VIIth Barbara Cappochin. Italy 2017.
Búsqueda para satisfacer el conocimiento de la actividad arquitectónica y tangentes que se generan. La idea es crear un espacio para divulgar los diversos proyectos en busca de nueva inspiración y de intercambio.