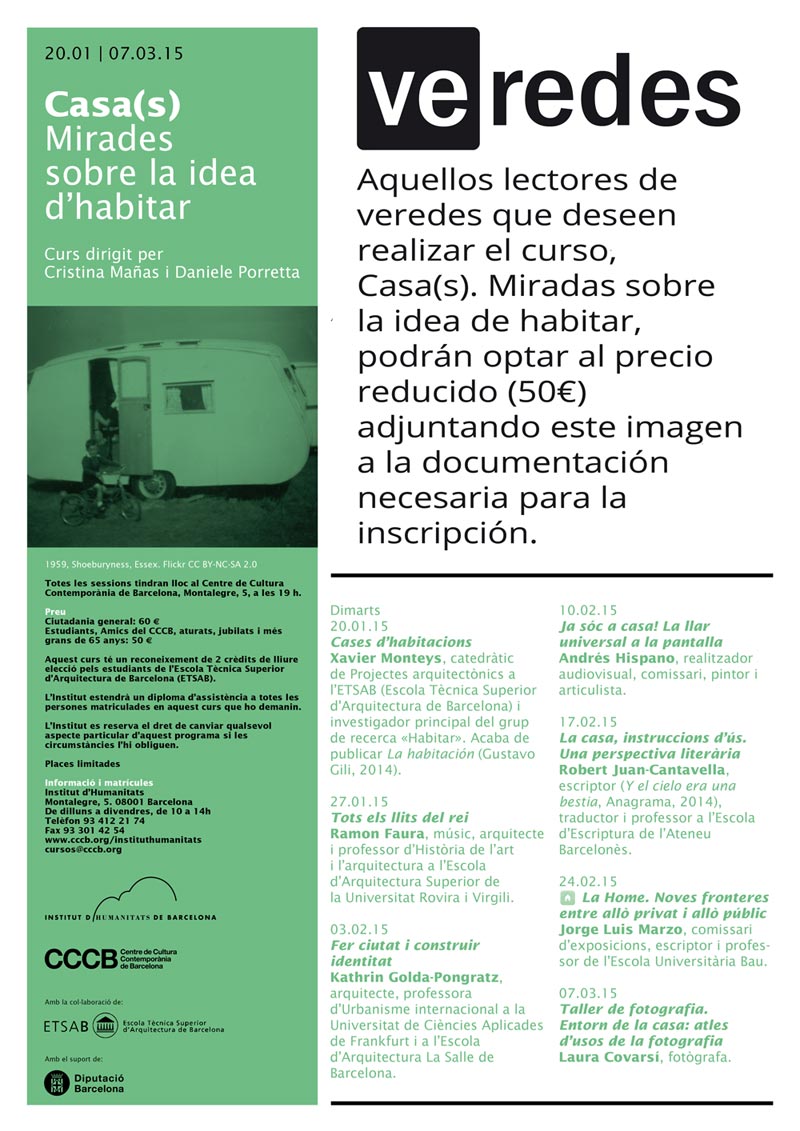 Course of the Institut d'Humanitats de Barcelona.
What longings and desires does it shelter today the house? It is, as was saying Bachelard, the topography of our intimate being? How has it changed the range of senses granted socially to the domestic space? And his form and his functions? Home, strength, cover, burrow, nest, lodging. In the course of the time, the house has given response to diverse needs and has represented a heterogeneous set of values and meanings: it is the space where to find refuge in an inhospitable world, tool of political fight and of social control, scene of conflicts of kind.
This course proposes a polyhedric approximation to the sense of the house, from inside towards out, exploring his uses, the different ways of living the domestic spaces, his evolution and his symbolic load. Along the course, the pupils who wish it will be constructing a photographic common file with the will to represent, to document and question the diverse dimensions of the house. The final workshop, with the photographer Laura Covarsí, will gather these images and will examine the work of some contemporary photographers to create an atlas of uses of the photography concerning the domestic space.
20.01.15 | Houses of rooms. Xavier Monteys, professor of architectural Projects in the ETSAB (Technical Top School of Architecture of Barcelona) and principal investigator of the group of investigation «Habitar».
27.01.15 | All the beds of the king. Ramón Faura, musician, architect and teacher of History of the art in the Architecture of Rovira i Virgili University.
03.02.15 | To do city and to construct identity. Kathrin Golda-Pongratz, arquitecta, Urbanisme Internacional's teacher in the University of Frankfurt's Applied Sciences and in the School of Architecture Go out For Her of Barcelona.
10.02.15 | Already I am in house! The universal home on the screen. Andrés Hispano, audio-visual producer, commissioner, painter and columnist.
17.02.15 | The house, instructions of use. A literary perspective. Robert Juan-Cantavella, writer, translator and journalist.
24.02.15 | The Home. New borders between the private thing and the public thing. Jorge Luis Marzo, commissioner of exhibitions, writer and teacher in the University School Bau.
07.03.15 | Workshop of photography. Concerning the house: atlas of uses of the photography. Laura Covarsí, Photographer.
Sonorous band of the course in Spotify: CASA(S). MIRADES SOBRE LA IDEA D'HABITAR
Notes: Those readers of veredes that want to realize the course, they will be able to choose at the cost of reduced (50 €) attaching this one image to the documentation necessary for the inscription.
Búsqueda para satisfacer el conocimiento de la actividad arquitectónica y tangentes que se generan. La idea es crear un espacio para divulgar los diversos proyectos en busca de nueva inspiración y de intercambio.