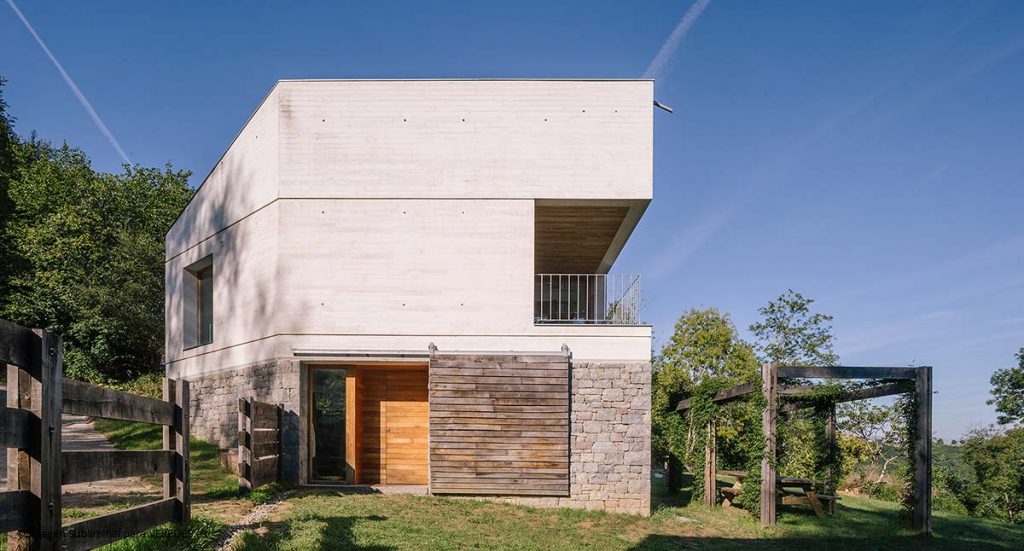 Before its conversion, the farmhouse was untouched for over five decades and needed a complete renovation to be adapted for contemporary needs. There were two construction sites: the main house and a stable. The main house was in a very bad condition, overgrown with vegetation, and numerous repairs had to be made to make it livable. The stone and timber structure of the stable was significantly deteriorated and most of the walls had to be replaced.
The position and materiality of the architecture was maintained although given the farm's crumbling state, the new facade of the the main house was reconstructed with white concrete and local stone.
In the main house, an insulating lining forms the new load-bearing structure, reinforcing the old stone walls and providing thermal insulation. The parts of the façade formerly of stone and brick weatherboarding were replaced by a monolithic wall of insulating concrete with formwork which reproduces the former texture of the timber. Windows sit within deep recesses and can be screened behind large wooden shutters that reference the style of stable doors.
Located on a steep south facing mountain slope overlooking the valley, the main house clings to a site with a 2 meter difference in level between the north and the south facade. In harmony with the slope of the terrain, the staggered arrangement of the ground floor levels provides a sequence of connected spaces avoiding conventional interior partitions. In the interior, supporting walls were replaced by light metal pillars, opening up a large triple-height living room along the entire length of the building, which allows daylight to enter. A generous metal staircase gives access to the different rooms of the house.
Work: Tmolo House
Year: 2007 – 2013
Location: Granda de Abajo, Concejo de Parres, Asturias, Spain
Area: 414 m2
Client: private
Authors: PYO arquitectos (Ophélie Herranz Lespagnol, Paul Galindo Pastre)
Development design collaborator: Carlos Mínguez Carrasco
Structure: Juan Rey (mecanismo)
Building contractor: Roberto Labra Rodríguez
Quantity surveyor: Fernando Suárez Otero
Photography: ImagenSubliminal / Miguel de Guzman+Rocio Romero
+ pyoarquitectos.com
Búsqueda para satisfacer el conocimiento de la actividad arquitectónica y tangentes que se generan. La idea es crear un espacio para divulgar los diversos proyectos en busca de nueva inspiración y de intercambio.