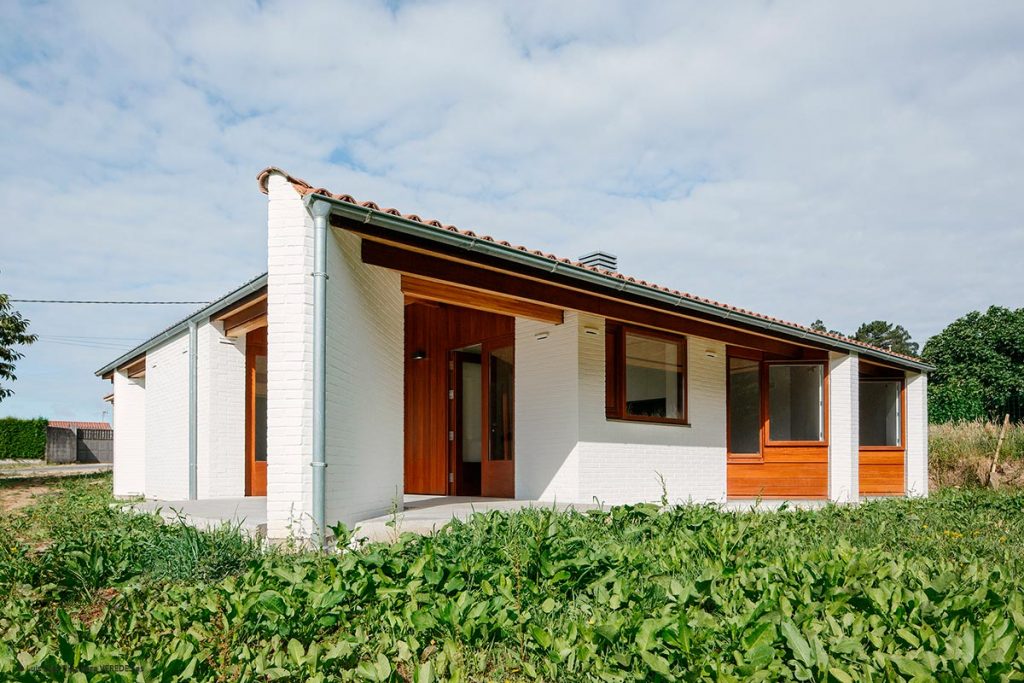 The housing solves in an alone plant with the only cover to three waters that it serves so much for the part closed like for the exterior opened spaces, included the garage. This decision of item allows to reduce the scale of the piece fitting the height of the fronts.
The garage arranges in the nearest part to the limit of access to the plot, approximately fifty centimeters over the level of the rest of the house adapting to the original topography, minimizing, of this form, the needs of conditioning of the area for rolled access and contributing to the privacy of the most domestic zones.
The program is organized by all the stays concerning the principal one that serves of dining room is – and possesses the possibility of being extended being opened completely for a (south-east) flanked porch, also, by the kitchen. In the interior, the variations in height and the form in which the relations are established between the different spaces contribute to a major sensation of extent. The gestures in plant answer to the search of the best orientation for each of the stays giving priority to the sights on the valley and the nearby forest.
The result is the only low, compact volume anchored to the area that, from a point of view compositivo, plays with common resources in the traditional constructions (closings weighed with rugose texture that contrast with cloths of light closing of paneling and carpentry of wood), and from the structural point of view it is solved by a simple system of walls of load and a framework of cover of wood.
The references to the traditional architecture are not literal, but they are translated in solutions that are a fruit of a respectful attitude with the way and the preexistences of the zone.
Work: Three water house in Oza
Authors: Arrokabe arquitectos [Óscar Andrés Quintela, Iván Andrés Quintela]
Location: Oza, Galicia, Spain
Year: 2016
Photography: Luis Díaz Díaz
+ arrokabe.com
Búsqueda para satisfacer el conocimiento de la actividad arquitectónica y tangentes que se generan. La idea es crear un espacio para divulgar los diversos proyectos en busca de nueva inspiración y de intercambio.