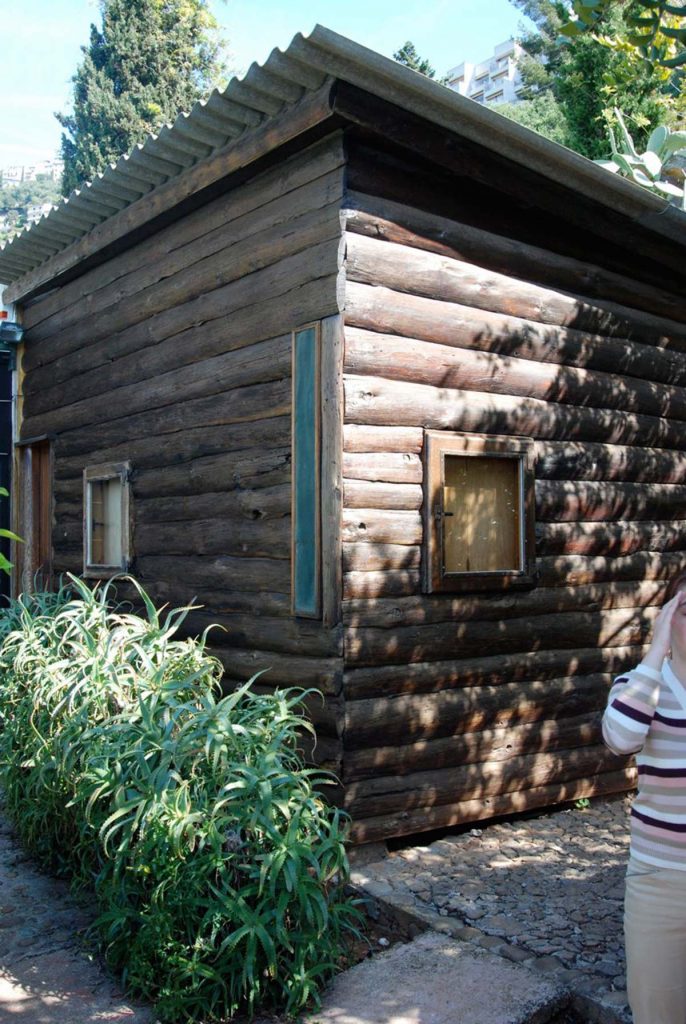 It is not because the Royal Institute of British Architects in 2009 had dedicated lectures and analytical studies, the reason we are interested in the Le Corbusier holiday shelter built in Roquebrune-Cap Martin on the shores of the French Mediterranean. It has always captured our attention because it represents what seems to be scarce at the present time in the world of architecture: coherence between discourse and life. Consistency that also, in the case of Le Corbusier, concerns an austere lifestyle destined in a very important way to verify in himself, in his habits, what he proposed as an architect. Whose central idea was to improve the living conditions of man by building an architecture that responded to new ways of making a city, of organizing daily space, new criteria on the patterns of life in family and society.
That coherence is what led Le Corbusier to build this Cabanon of minimum dimensions (3.66 x 3.66 m.) In the side patio of the restorancito ("L'Étoile de Mer") of his old friend Thomas Rebutato, on the slope that descends from the railway line that serves Roquebrune-CapMartin, towards the Mediterranean. Le Corbusier had made friends with him thanks to his frequent visits to the nearby house of the Irish architect and designer Eileen Gray and Jean Badovici, the latter editor of the first writings of Le Corbusier, built in 1927 according to the rationalist criteria of the early "Movement Modern". Le Corbusier requested authorization to build the cabin to his friend Rebutato and, according to his testimony, on December 30, i951, on one of the restaurant tables, he designed it:
"… I drew, to give them to my wife on the occasion of her birthday, the plans of a little cabin … made in ¾ hour …"
But the detailed realization, the "cleanup" would take much longer, so studied was the internal equipment, whose design followed the norms of the dimensional system developed by Le Corbusier, the Modulor, During that period the great French engineer Jean Prouvé (1901-1984) was called as a collaborator with the apparent intention of building it in steel. However, this collaboration did not continue and both the internal furniture and the outer wrapping were made of wood. The roof is made of corrugated fiber cement with eaves and under it there is a wood chipboard ceiling.
The internal equipment consists of a work table next to whose sides open two windows, one square and one rectangular, which allow to see outside and receive natural light; on the opposite side a bed with drawers underneath for his wife by a third window, while he slept on the floor in a sleeping bag. A small metal sink separates the table from the bed and next to the headboard of the latter is the toilet cubicle, separated from the environment by a canvas curtain, facing the entrance passageway decorated by a beautiful mural painted by the architect.
It is a tiny container conceived as the interior of a cabin destined to sleep and clean right next to the place where you could eat like a parishioner. Beyond, to the left of the ocean view, a few steps away, there is another cabin, more provisional, more devoid and not accessible to the tourist visitor, which is the workplace where he drew his plans or painted, in those thirty Hot summer days and rest, typically European.
Already in the year in which Le Corbusier built the Cabanon was a man of universal fame. While doing so he was finishing the Marseille Unit and began studying the new city of Chandigarh in India. But instead of seeing his summer residence as a "villa" more on the seashore, he decides to establish a "point of view" a minimum vital space that he does not want to break into his surroundings, to live with the day to day of that place secluded who had learned to love. The architect then takes the desire to be there in a private place as an opportunity for experimentation in itself in terms of containment, enjoyment with nature, quiet coexistence with a natural and human environment.
That is why I speak of coherence, of testimony, of a way of life that wants to be frugal. A radically different attitude to what prevails today.
By visiting this kind of cell of a secular monk that is a living testimony of a philosophy of life, we are a long way from the costly daybreak party that is the architecture of these days. It has been declared a heritage monument, the smallest in France, a country full of fabulous castles. That decision tells us what constitutes a culture. Among so many things, the imprint of the key men in human life. A footprint that calls us to return to the essential.
Óscar Tenreiro Degwitz, Architect.
Venezuela, january 2009
Entre lo Cierto y lo Verdadero
Es un arquitecto venezolano, nacido en 1939, Premio Nacional de Arquitectura de su país en 2002-2003, profesor de Diseño Arquitectónico por más de treinta años en la Universidad Central de Venezuela, quien paralelamente con su ejercicio ha mantenido ya por años presencia en la prensa de su país en un esfuerzo de comunicación hacia la gente en general de los puntos de vista del arquitecto acerca de los más diversos temas, entre los cuales figuran los agudos problemas políticos de una sociedad como la venezolana. Tenreiro practica así lo que el llama el "pensamiento desde y hacia la arquitectura", insistiendo en que lo hace como arquitecto en ejercicio, para escapar de los estereotipos y cautelas propios de la "crítica arquitectónica". Respecto a la cual no oculta su desconfianza, que explica recurriendo al aforismo de Nietzsche sobre el crítico de arte "que ve el arte desde cerca sin llegar a tocarlo nunca".