It is summoned for the Third Biennial show of Latin-American Architecture BAL2013. The Biennial show of Latin-American Architecture BAL is an initiative of the Group of Investigation AS20 of the School of Architecture of Navarre, and one organizes with the collaboration of the Union of the Region of Pamplona, of the Town hall of Pamplona, the Architects' College Basque – Navarrese one and the University of Navarre, who integrate his Patronage. The Biennial show will develop entirely in Pamplona, and his permanent secretary is in the School of Architecture of the University of Navarre and endrá place during April, 2013. The Biennial show BAL2013 will have to Brazil as invited country, which will lead to organizing an exhibition and specific seminars on the situation of the architecture in this country.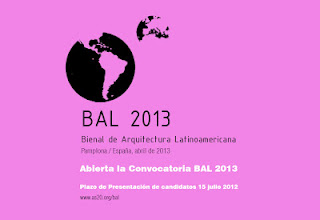 They will be able to present his candidacy to take part in the BAL2013 all the architects who have his professional domicile in some country of Latin America, and whose age, on December 31, 2011 be lower than 40 years. The equipments selected in the second Biennial show BAL2011 will not be able to present again his candidacy, though yes they will be able to do it bienalistas of the BAL2009 that still they fulfill the requirement of age.
The candidacies will be able to be personnels or of equipments of architects legally constituted. In the latter case, one will have to justify a professional joint path. It will not also be sufficient to be able to appear that only one of the members of the equipment fulfills the obligatory requirement of age, but they it will have to fulfill all of them.
+ info
Búsqueda para satisfacer el conocimiento de la actividad arquitectónica y tangentes que se generan. La idea es crear un espacio para divulgar los diversos proyectos en busca de nueva inspiración y de intercambio.