(..) Those who know the Eastern Europe of the black decades, or Great Britain in his times of austerity, will know that the solidarities and human creativities can have his origin in the relative poverty. It is not the political censorship what kills: it is the despotism of the market of masses and the rewards of the commercialized stardom (…)

George Steiner. One idea of Europa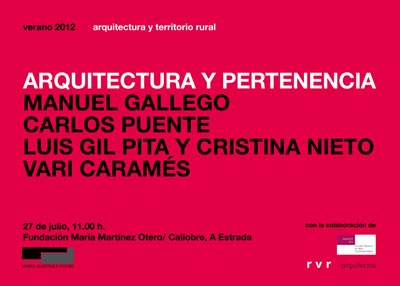 Next July 27 we celebrate the second edition of " architecture and rural territory ". In this new occasion we will possess the participation of the photographer Vari Caramés, and of the architects: Luis Gil/Cristina Grandson, Carlos Puente and Manuel Gallego. Persons of generations, places and enclosed different trades joined nevertheless by the thin threads that the life is weaving. During the chats, they will show us his way of looking and understanding this territory, and of constructing it for so much – though only it is across the eye that looks like in Vari Caramés-. In the work of all of them we find elements of reflection on the rural way: his landscape, his scale, his company, his constructions, and we find also ideas on how doing architecture today in this so strange way, which is not city nor nature. Though his work is very different, they have jointly an idea of belonging to the cultural and material modern tradition, which they do not lose of sight, to insist also on the connection with a physical recognizable and concrete reality, to find in that tradition and in this reality a " conceptual mother land from which to extend the known world ". Another suggestive idea of the work of all of them is that of poverty, not as limitor, reductora, but as generating of ideas and new ways. Poverty, in what of more beautiful it has this word: " much with little ", reduction of the complex thing to the simple thing, to look at the things as things in if, with an absolute lack of rhetoric.
Program
In the morning 11.00 h:
Vari Caramés · Miradoiro Galicia
Luis Gil y Cristina Nieto · Interlaced and overlappings. The architecture inside the architecture and what it does not fit
In the evening17.00 h:
Carlos Puente · That already is above mentioned
Manuel Gallego · Some experiences and reflections. The rural way is interested, but does it exist?
Summer 2013 arquitectura y territorio rural
On July, 27  María Martínez Otero Foundation/ Callobre, A Estrada
Free assistance / maximum number of assistants: 40 persons
src / 0034 630 070 874 / josevalladares@rvr-arquitectos.es
Between the conferences of the morning and of the evening there will be a food for all the assistants with products of the garden of the  Martínez Otero Foundation
gratefulnesses: José Villacé, Jacobo Bugarín, María Valladares
+ arquitecturayterritoriorural.es
Búsqueda para satisfacer el conocimiento de la actividad arquitectónica y tangentes que se generan. La idea es crear un espacio para divulgar los diversos proyectos en busca de nueva inspiración y de intercambio.