The Factory of Santa Clara (1941) belonged to the Group of Companies Álvarez (GEA). Thanks to the good situation that went through and to the strong demand of production, emerges the need of new spaces of almazenamiento, which is why is ordered to Francisco Castro Represas and to Pedro Alonso Pérez (that already took a year working in the study of the architect of Vigo) the construction of a building for store. Of the resulting project is born the Factory of Santa Clara (whose name is owed to that Santa Clara was the town where Manuel was installed Álvarez in its placement in Cuba), formidable example of the thesis rationalists from 20 that influenced in the industrial architecture.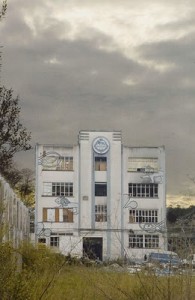 It is a question of a prism of 20 x 60 meters of four heights placed at the number 380 of the Avda. Ramón Nieto. The language rationalist that two architects print to the building are appreciated in the flatness and the alignment of the willingness of vains, that are interrupted for borders handstands. The front of access is symmetrical and it is swaged in an axis for a vertical border where a constant picture window is opened. It ends with an abstemious cornice that more height reaches that the rest of the front.
The clock, with the logo of the promoter and framed in a semicircumference, is the only decorative element of the front. Architects employed blocks of hormgón rebocado and painted in the partitions. With the new one PGOM about to be approved (or not?) it seems that its disappearance is next. It would be a penalty to give off us of a building with so much history and accurate reflection of a period of the architecture that sat the bases of the Modern Movement.
It is the only industrial building of style rationalist that have in Vigo next to the Factory Ribas. It would not be able to use with social or cultural ends? In the piece of land of GEA housing are projected, but also space is allocated for social and cultural ends. It would be able to rehabilitate. We should not allow that our industrial heritage goes disappearing impúnemente little by little.
leonardo
+ article is published in arquitecturavigo
Búsqueda para satisfacer el conocimiento de la actividad arquitectónica y tangentes que se generan. La idea es crear un espacio para divulgar los diversos proyectos en busca de nueva inspiración y de intercambio.