The Danish company Troldtekt, he presents the third edition of his biennial contest for students. The aim of the contest is to reward new uses and offers of the acoustic plate Troldtekt. There will be valued specially those creative ideas that could be carried out in the reality since it is a question of looking for the balance between the originality and the practical sense. The participants can propose the colors, the forms and even new uses.
The deadline Troldtekt Award to register in the contest is April 1, 2014 though the offers will be able to be raised to the web of the contest until April 30, 2014.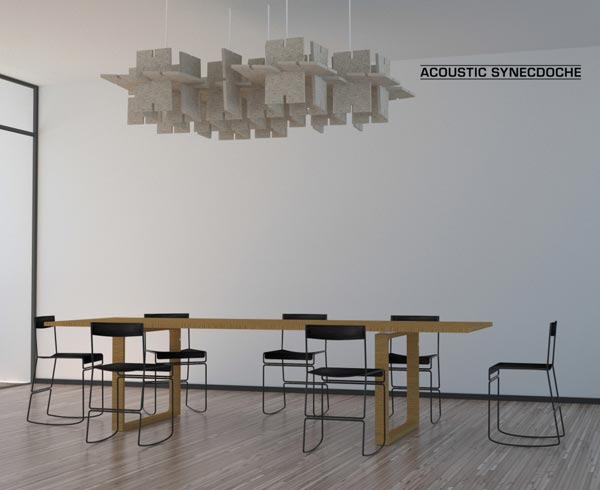 Product
The plate Troldtekt is a traditional plate for ceilings made based on Danish wood and I cement but also it is a flexible plate that can cut away and use in new supports. The principal advantages of the product are his good acoustic one and his sustainability since it is made by wood of the Danish forests certified with PEFC that guarantees a sustainable forestry.
International juror
The juror of the contest who will value the received offers is formed by the Danish architects Mikkel Frost of CEBRA a/s (cebra.info), the Dutch architect Bjarne Mastenbroek's SeARCH Architects (search.nl), the Spanish architect Jorge Vidal de Rahola Vidal Arquitectos (raholavidal.com) and two persons of Troldtekt A/S.
Previous editions
The winning project of the previous edition was that of the student Matthias Kisch, of the School of Copenhaguen's Architecture for his project Acoustic Synecdoche, an acoustic sculpture in the shape of cloud in the one that could join light.
The special prize of the juror was for Amy Linford of the University of Newcastle.
The bases of the contest can consult in: troldtekt.com
Búsqueda para satisfacer el conocimiento de la actividad arquitectónica y tangentes que se generan. La idea es crear un espacio para divulgar los diversos proyectos en busca de nueva inspiración y de intercambio.