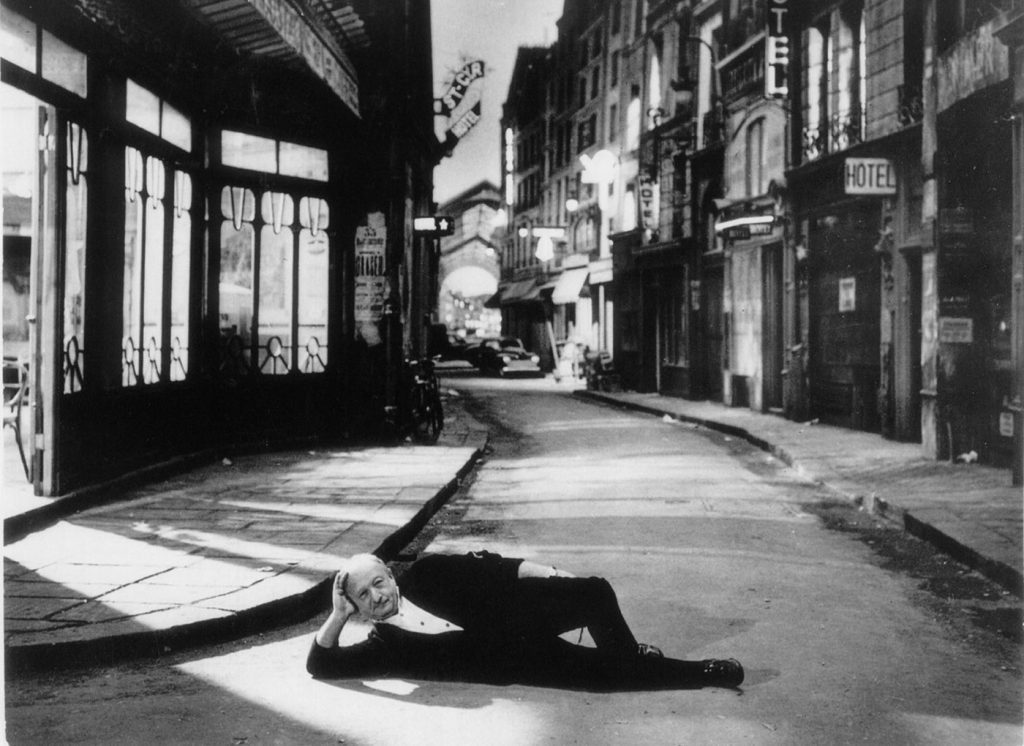 Undoubtedly, Alexandre Trauner was one of the best film set designers in history. In 1987, an exhibition with his drawings was organized at the Dau al Set Gallery in Barcelona, while the first edition of the Barcelona Film Festival was held.
The La Vanguardia newspaper published an interview with the teacher, signed by Felix Flores, which reproduces some of the topics that were then used when mentioning the work of artistic directors; his title is already one of them:
«Alexandre Trauner, the man who paints what we see in the cinema»,
forgetting that set designers create spaces, being much more architects than painters, because graphics and rarely painting were only the instrument that served to express their ideas. On this title you can read a text that begins:
«An artist who has been practicing for fifty years one of the most unknown specialties for the public in the world of cinema; the design of sets, is the subject of an exhibition in the Cinema Festival»,
in those years the "design of sets" could be a work little known by the public, but books on this subject had already been published and there were famous and well-known set designers, both Spanish and foreign.
Most of what the interviewer puts in the mouth of Trauner refers to his professional career, talking about the directors he worked with, such as the great Welles:
«I liked Orson a lot. He was very intelligent and instinctive, a man full of ideas that he could not put into practice for the most part because he was his own producer».
He also makes an interesting consideration about the role of his profession:
«In the movies the most important thing is the story, then the actors come, and then the technicians. I am there, behind»
a consideration in which his modesty stands out, because his contribution to the films in which he worked was capital, Trauner also talks about film studios:
«The cinema consists of giving the public the maximum of illusion, of a sense of reality where there is only fiction. For example, the shootings are something very curious. A box of matches may be more important than a large set, it all depends on the story. It is not a matter of bigger or smaller but of what can be done. This is how we made Around midnight,, in a small studio. Of course, you can not do Intolerance in a matchbox and Griffith was crazy».
The scenographer also mentions the state of the cinematographic business of those years:
«Then, in Hollywood there were producers. They worried about making good movies and giving money. Today there are no producers as before; its only objective is to make money, and it does not matter that the films are bad because the offer of audiovisual entertainment is already huge»,
something that has worsened since then, provoking a radical change of the system that prevailed at the end of the last century.
At the end of the interview Trauner says something very reasonable:
«Life is short and movies are too long. What you have to do is try not to get bored and not bore others».
Jorge Gorostiza, PhD architect.
Santa Cruz de Tenerife, september 2018
Author of the blog Arquitectura+Cine+Ciudad
Doctor arquitecto, proyecta y construye edificios y desarrolla trabajos de urbanismo. Desde 1990, publica numerosos artículos sobre cine y arquitectura en medios de su localidad, revistas como Nosferatu, Nickleodeon, Academia, Lateral, Cahiers du Cinema… y en varios volúmenes colectivos. Entre el 2000 y el 2005 dirige la Filmoteca Canaria. Imparte conferencias sobre arquitectura y cine en instituciones como el CAAM en Gran Canaria, la UIMP, el CENDEAC en Murcia, INCUNA en Gijón, Fundación Telefónica, la ETS de Arquitectura y el CCCB de Barcelona, las ETS de Arquitectura de La Coruña, Sevilla, Valencia y SEU madrileña, La Ciudad de la Luz en Alicante, la UNED en Pamplona, en varios colegios de arquitectos, así como en las universidades del País Vasco, Gerona, Valladolid, Málaga, Granada, SEK en Segovia y CEES de Madrid. Jurado en varios festivales cinematográficos, como los de Alcalá de Henares (2001), San Sebastián (2002), Sitges (2003), Las Palmas (2005) y Documentamadrid (2005), y comisario de las exposiciones Constructores de quimeras. (Centro Conde Duque, Madrid, 1999) y La arquitectura de los sueños (Capilla del Oidor, Alcalá de Henares, 2001).
He publicado bastantes libros y muchos artículos, he impartido conferencias, he sido comisario de exposiciones y jurado en muchísmos festivales. Si quieren saber más no duden en consultar mi blog ARQUITECTURA + CINE + CIUDAD.