The magazine of architecture and Tectónica construction – publication of head-board for architects and professionals of the construction of Spain, Portugal and Latin America – it has given the step to his complete internationalization with the creation of tectónica – online, a complete digital platform in English and Spanish with the principal contents of his almost 20 years of history and new others that join in this new stage.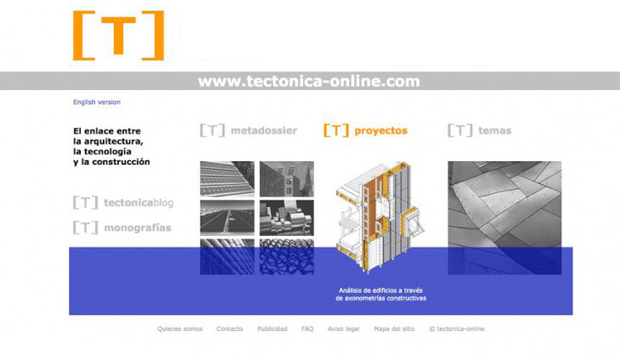 Tectónica it is formed by a group of professionals of the architecture and of the edition got mad about the architecture and the construction. In 1996 it began the edition of the magazine in paper, organized as a collection of technical monographs and with a strict division in three sections: articles, projects and dossier of products. It was the beginning of a successful adventure. The technology and the current means provide today the suitable frame for a new exposition: tectonica-online, the portal of analysis of the Architecture, the Technology and the Construction in that to be able to consult the list of titles of Tectonic and to advance in the study of the architecture and of the construction across new articles, new analyses of projects and a constant search and selection of materials, products and constructive systems.
Brief guide of use:
From the opening it is possible to choose for three principal ways – products, projects and topics-, but we have established bridges between them:
In the metadossier there are links with constructive details (to open eyelash of "construction details"):
From the constructive details it is possible to connect with the complete project (To do click in the name of the project):
The project can be read as a magazine, with different options of visualization:
The axonometría is extended and, again, it connects with the metadossier across the explanatory points:
Also the articles are connected by the metadossier opening "related products"
And both the products and the sights of the constructive details can avoid in " my file " and there sharing them with five contacts a day.
On having gone being opened quite in windows it is easy to handle the whole sequence of, for example, constructive article – producto-detalle, or constructive product – detail project.
And as space opened for previsualizar the content of the metadossier, it is Gallery of imagenes:
The possibilities of use are multiple and we hope that it is a so good tool for the professionals of the construction since it has been all these years Tectonic.a.
Búsqueda para satisfacer el conocimiento de la actividad arquitectónica y tangentes que se generan. La idea es crear un espacio para divulgar los diversos proyectos en busca de nueva inspiración y de intercambio.