During the 21st, September 22 and 23, in the pavilion of Xermade's sports (Lugo), the Foundation Center Galego gives Crafts and do Design organizes a workshop in order to think about the possible change on a large scale of the own objects of the tornería towards the world of the architecture and his pieces. The workshop coordinated by the architects Marcial Rodríguez and Luis Gil Pita, is organized of the following way: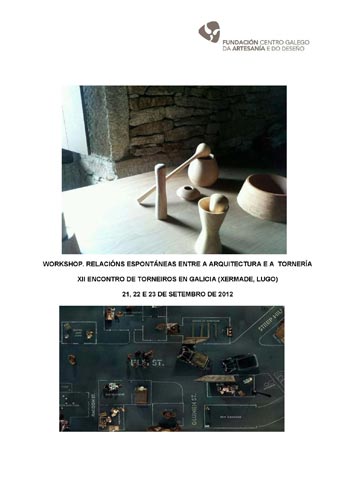 Friday (16:00 to 20:00 hours)
Meeting, initial proposal of groups and approach to the look of the change of scale and form-function from the perspective of the needs of the architecture.
Saturday (10:00 to 13:30 and 16:00 to 19:30 hours)
Realisation and practical discussion with the torneros for the execution of the pieces thought and proposals in the first day.
Sunday (10:30 to 13:00 hours)
Editorial and presentation of the conclusions on the experience. Common design of a space that complement all the experiences of the workshop.
Registration
attaches  a program of the workshop:
[mappress mapid="87″]
Búsqueda para satisfacer el conocimiento de la actividad arquitectónica y tangentes que se generan. La idea es crear un espacio para divulgar los diversos proyectos en busca de nueva inspiración y de intercambio.