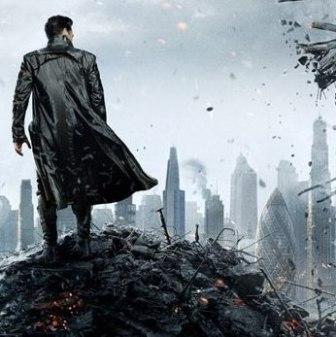 A few months ago I wrote an entry on the cartel of the Los últimos días movie in that was appearing the Agbar Tower by Jean Nouvel and enough before I published another entry on the persistence of the Gherkin Building  in the alternative reality where La brújula dorada.
Now looking held up one of caterls of Star Trek into Darkness, I have discovered again the silhouette of the Gherkin, but this time between the monstrous towers of a future London in ruins.
Both this cartel and the mentioned one of Los últimos díass have a similar composition with a few prominent figures of foot and of backs observing a metropolis desvastada with a look, we suppose that perplex, that it looks for the complicity of the spectator, because also it is his look.
Returning to the Gherkin, it is evident that it has turned into an icon that it represents to the city since long ago they it might have done San Paul's Cathedral, the tower of the Parliament with the Big Ben or the Tower Bridge, certainly, the first one appears in one of the trailers of this movie minimized between the futurist skyscrapers, one of them very similarly and almost as a widespread version of the Hearst Tower that Norman Foster constructed in New York, on the theatre that there had designed the great set designer Joseph Urban for William Randolph Hearst.
The category is undoubted icónica of the Gherkin created by Lord Norman Foster, who enclosed appears in a recent advertisement of gin, nevertheless, this category does not guarantee his appearance in all the means, for example in one of the cartels of Fast and Furious 6, all the principal prominent figures can be seen on a hill and behind the skyline of London, with the Treadmill of the Millenium, the Abbey of Westminster and other buildings, but it does not appear still-probably do it in other later cartels – the Gherkin; also it is significant that in this cartel one has not resorted to a landscape tinerfeño – the movie also was rolled in the island of Tenerife-, but it is logical that opposite to the Capital of the former Empire, a few crags lost in the middle of the Atlantic Ocean have less power icónico.
Jorge Gorostiza, architect. Author of the blog Arquitectura+Cine+Ciudad
Santa Cruz de Tenerife, may 2013
Doctor arquitecto, proyecta y construye edificios y desarrolla trabajos de urbanismo. Desde 1990, publica numerosos artículos sobre cine y arquitectura en medios de su localidad, revistas como Nosferatu, Nickleodeon, Academia, Lateral, Cahiers du Cinema… y en varios volúmenes colectivos. Entre el 2000 y el 2005 dirige la Filmoteca Canaria. Imparte conferencias sobre arquitectura y cine en instituciones como el CAAM en Gran Canaria, la UIMP, el CENDEAC en Murcia, INCUNA en Gijón, Fundación Telefónica, la ETS de Arquitectura y el CCCB de Barcelona, las ETS de Arquitectura de La Coruña, Sevilla, Valencia y SEU madrileña, La Ciudad de la Luz en Alicante, la UNED en Pamplona, en varios colegios de arquitectos, así como en las universidades del País Vasco, Gerona, Valladolid, Málaga, Granada, SEK en Segovia y CEES de Madrid. Jurado en varios festivales cinematográficos, como los de Alcalá de Henares (2001), San Sebastián (2002), Sitges (2003), Las Palmas (2005) y Documentamadrid (2005), y comisario de las exposiciones Constructores de quimeras. (Centro Conde Duque, Madrid, 1999) y La arquitectura de los sueños (Capilla del Oidor, Alcalá de Henares, 2001).
He publicado bastantes libros y muchos artículos, he impartido conferencias, he sido comisario de exposiciones y jurado en muchísmos festivales. Si quieren saber más no duden en consultar mi blog ARQUITECTURA + CINE + CIUDAD.