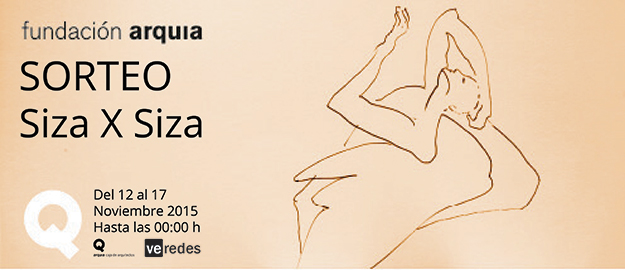 Today thanks to the Foundation Architects' Box we realize a new drawing in veredes, in this occasion our readers will be able to choose to two income to enjoy the act of public presentation of the publication Siza X Siza that will take place next November 20, 2015 to the 19.30 in the Royal Academy of San Fernando's Fine arts in Madrid (Spain).
"Álvaro Siza, chooses in this publication, 6 works of between more than 400 realized ones during his professional life, and explains the reasons of his selection. 157 photographies never compose the photographic article of six works realized in sole right for this edition, as well as the careful reproduction of 124 drawings to hand of the own Álvaro Siza, many of them before published."
The act of public presentation of the book will develop first and to introductory way, by means of an institutional presentation on the part of the President of the Foundation, Javier Navarro Martínez. Later, the publishers of the book, Juan Rodríguez and Carlos Seoane, they will comment on the singularities of the edition and immediately afterwards, Álvaro Siza, will offer a small conference of 30 minutes, on his recent work. Hereinafter in format of round table, the authors of the prologues of the book, the architects of recognized prestige: David Cohn, Juhani Pallasmaa and Eduardo Souto de Moura, together with the own Álvaro Siza, they will exchange his opinions with regard to this publication, moderated by the journalist of architecture Anatxu Zabalbeascoa.
The end of the act will come followed from an offer of glass of Spanish wine, together with the obsequiousness from one from the copies of the book to every assistant.
The mechanism is very simple, simply you must leave a comment defining what in your opinion suggests you the book or Álvaro Siza's own work. In this occasion the comment you will be able to realize it so much in the web (at the end of the post) and / or in the entry of the Facebook.
The term to take part in the drawing is from today on Thursday, the 12th of November until Tuesday, the 17th of November to them 00:00 hours.
Those that you could not represent physically to the event, this one will be broadcast online across streaming in any of 3 languages in order that the whole world could follow it parallel.
Búsqueda para satisfacer el conocimiento de la actividad arquitectónica y tangentes que se generan. La idea es crear un espacio para divulgar los diversos proyectos en busca de nueva inspiración y de intercambio.