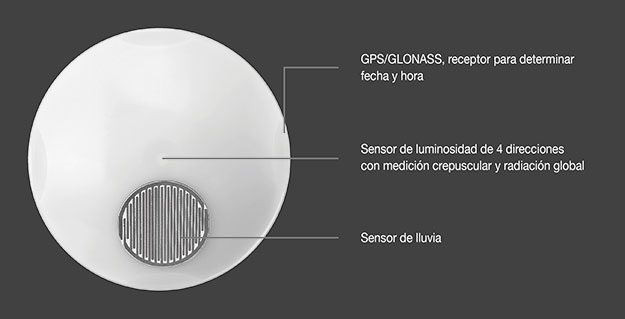 Wind, luminosity, rain, atmospheric pressure and temperature: the meteorological station for the system of automation Jung's KNX incorporates all the necessary sensors to register the most important meteorological information in a solid and specially compact device. His function and area of principal application is the automatic control of blinds and tents in housings and buildings, depending on the meteorological conditions and the position of the Sun. With the only station, the intelligent control of closings is possible in up to eight fronts of a building.
Viento, luminosidad, lluvia, presión atmosférica y temperatura: la estación meteorológica para el sistema de automatización KNX de Jung incorpora todos los sensores necesarios para registrar los datos meteorológicos más importantes en un aparato sólido y especialmente compacto. Su función y ámbito de aplicación principal es el control automático de persianas y toldos en viviendas y edificios, en función de las condiciones meteorológicas y de la posición del sol. Con una única estación, es posible el control inteligente de cerramientos en hasta ocho fachadas de una edificación.
The integrated sensors measure with total reliability the speed and the wind direction, the luminosity in four senses, the late afternoon, the global radiation, the rainfalls, the relative dampness of the air and the atmospheric pressure. Since complement other values are calculated, as the absolute dampness of the air and the thermal sensation. With the measurement of this information also it is possible to optimize the control of the ventilation and the climate of the housing or building, according to parameters and pre-established graphs of comfort. The recipient GPS/GLONASS – for date and hour – and an astronomic function to determine the height of the Sun, they optimize the characteristics of the meteorological station KNX. Hereby, already it is not necessary to fit the hour manually.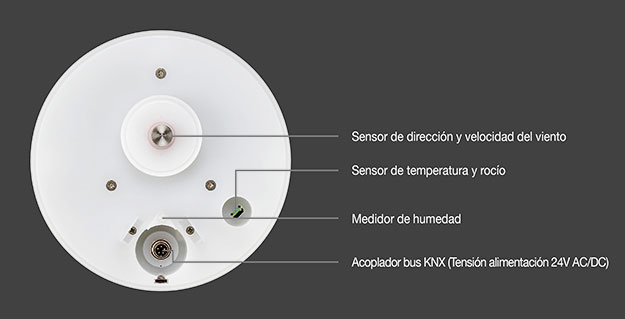 Simple installation.
The meteorological station Jung's KNX is mounted in his mast of assembly by the corresponding arm of fixation of stainless steel. For his solidity and precision, there remains guaranteed an ideal record and measurement of the meteorological information. Optionally, it is possible to mount also directly in the front by means of an arm of assembly. Likewise, the box of the station is made of a polycarbonate specially resistant to meteorological adverse conditions.
Búsqueda para satisfacer el conocimiento de la actividad arquitectónica y tangentes que se generan. La idea es crear un espacio para divulgar los diversos proyectos en busca de nueva inspiración y de intercambio.