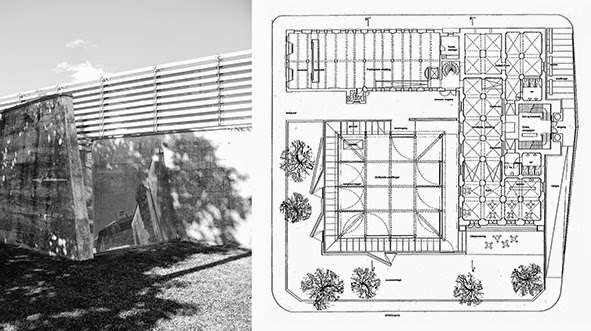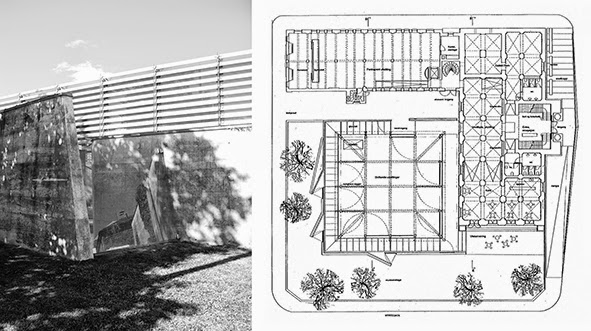 The look crosses the contemporary city a bit lost between signs, asphalt, walls and luminous labels: impermeable surfaces. The system also shows inaccessible hollows as the foreign window from which to be able to feel discreetly observed. The urban eye scarcely penetrates a couple of meters in the shop windows, the interior of a vehicle, the black after the window of the kiosks.
Nevertheless, the construction of the city demands the consideration of the fissure, the permeable look, the street as instrument of errant observation.
In 2007 Sverre Fehn extends with a square and independent pavilion the office block for the Norge Bank (Oslo 1830), adapting the rooms to his new use as Museum of Architecture and serving the extension as space of temporary exhibitions. The delicate pavilion of glass rehúnde and he withdraws of the adjacent streets by means of a garden, a wall of concrete and a gallery perimetral exterior.
The installation of a series of loopholes in the wall allows to observe from the street the successive exhibitions, well inside the pavilion, good in the exterior gallery, turned at the time in the real explanatory place: an interval. Or two.
The mechanism appears as the reverse of the window, his another side, the exterior peephole from which to sight in. As a reversed periscope, the low exhibition stays awake so much for the urban spectator as the visitor of the museum: the gallery enables his symmetrical positions.
City and gallery, pavilion and exterior garden, the spaces happen and transfer us from out as transients of a permeable city, the accommodating city, the city perforated across peepholes and periscopes.
Miguel Ángel Díaz Camacho. PhD Architect
Madrid. February 2015.
Author of architecture paragrahs. #arquiParrafos