We publish the following initiative summoned by pupils of the teacher Luis M. Mansilla. The participation is strictly anonymous, and his publication without ends of profit, canalized from the Project department of the ETSAM.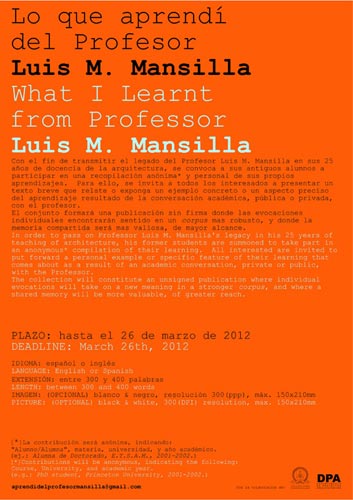 "It is a question of calling for all that we have been pupils of the Teacher Mansilla, inviting to take part with a brief text that reports this personal education that we we all hoard and that he made arise from the 'conversation', since he liked to call to the educational function. The recolipación – let's wait wide – it will be rigorously anonymous, non-profit-making, of pupils for pupils, understanding that the last aim is to transmit the valuable legacy that has given us, and trying that comes beyond possibly."
Búsqueda para satisfacer el conocimiento de la actividad arquitectónica y tangentes que se generan. La idea es crear un espacio para divulgar los diversos proyectos en busca de nueva inspiración y de intercambio.