We receive the order to design the new place of the Sisargas Bookshop that was changing after 14 years next to Campo de Marte.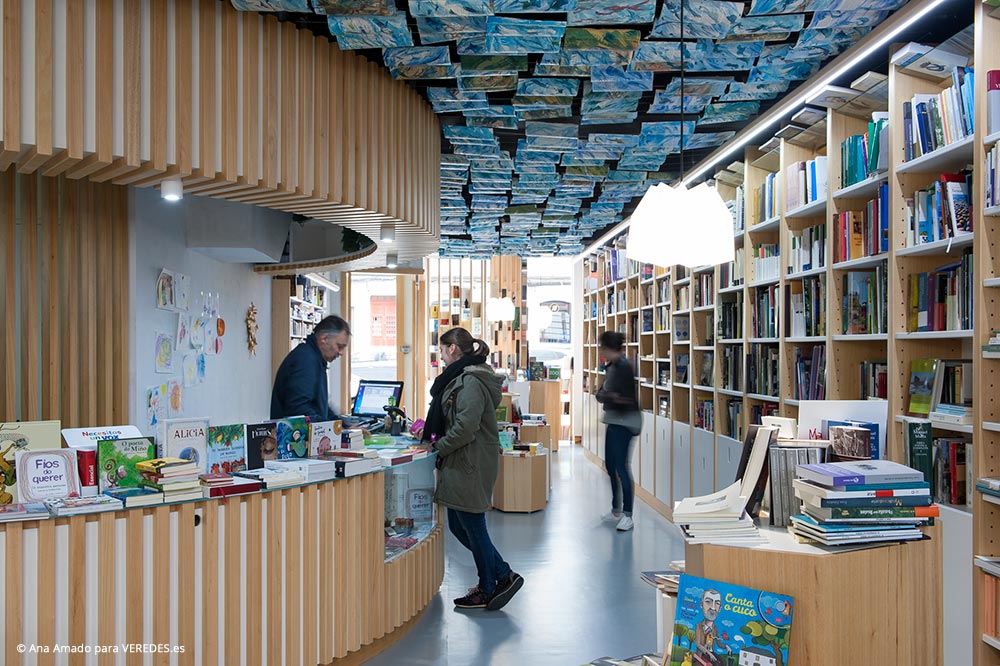 The bookshop Sisargas, seated in Montealto's neighborhood of A Coruña, wanted to minimize the inconveniences of the change of place betting for the added value of the design.
It was in under luminously, in corner, with big shop windows where to show books, discs and other articles. In the interior the furniture were structuring the space and were producing corners where to turn the pages of the books before the purchase.
The new place is, for against, a narrow place with a bottom of approximately 20 m. With light in both ends, with little shop window where to show his products.
It is decided to place the point of sale in the center, together with the bathroom and a small store, is formalized by means of an arch that does not touch it her seems in one extreme to do the revenue and to rest on the walls to selection of books to leave the totally diaphanous rest to arrange the mobile furniture.
The fixed furniture realize by means of amounts of wood of ayús with piers of board lacquer, already be racks or not and it disappears when they want to be done veladuras. The racks in the furniture placed to the bottom, with orientation South, do of lattice to avoid the direct entry of the solar beams and the expensive sight Quinteiro's court. The mobiles are hexagonal pieces of different heights that can be from seats to shaping a great explanatory table of different heights or forming small explanatory spaces. The possibilities are infinite owed the aptitude to associate of the hexagon.
The table for the acts is a part of a hexagon and the benches are the knocked down exhibitors.
To extend the explanatory possibilities of the small shop window there is designed a lattice of four mobile leaves that increases the possibilities of configuration without strangling the entry of light.
The soil realizes with sports rubber of gray color that he remembers the winter Galician sky, the ceiling with hung "books" painted by the property, they look like a fecund sea, the sea of the Sisargas.
Work: Sisargas Bookshop A Coruña
Author: trespes.arquitectos [Carlos Mosquera, Alberte Pérez, Enrique Iglesias]
Location: Rúa de San Roque 7. 15002, A Coruña, Galicia, España
Coordinates: -Latitude: 43° 22′ 24″N -Latitude: 8° 23′ 51″W -Length UTM: 29 -Coordinate x: 548798m -Coordinate y: 4802463m
Collaborators: Alejandra García Macías (architect)
Furniture: Lamp by MV
Photography: Ana Amado
Year: 2014 – 2015
+ trespesarquitectos.com
Búsqueda para satisfacer el conocimiento de la actividad arquitectónica y tangentes que se generan. La idea es crear un espacio para divulgar los diversos proyectos en busca de nueva inspiración y de intercambio.