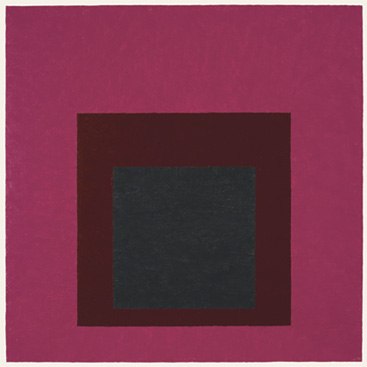 Josef Albers: Minimal Means, Maximum Effect is the first retrospective in Spain devoted to Josef Albers (1888–1976). Comprising more than one hundred works of art in addition to furniture, objects, photographs, and a range of documentary material, the exhibition has been devised and developed over the last years in close collaboration with The Josef and Anni Albers Foundation (Bethany, Connecticut).
Notwithstanding its retrospective character, the exhibition is not structured as a simple chronological survey of the artist's work, although this would in itself be enormously enriching and instructive. Rather, it presents the work of Josef Albers as a project equally characterized by its coherence and its search for simplicity, its productive use of deliberately limited means and resources, its respect for manual labor and its emphasis on experimentation with color, taking material shape in a body of work with a marked poetic and spiritual content. Albers' output is decidedly the result of a judicious administration of artistic resources. In its totality his oeuvre is the consequence of a true "economy of form.
With the exception of his earliest creations, which deploy an Expressionist idiom typical of early 20th-century Germany, the work of Josef Albers was completely governed by an economy of means that constitutes the guiding thread of his artistic practice. One of the artist's first texts, published in 1928 with the title "Werklicher Formunterricht," opens with the following words: "Ours is an economically oriented age," and goes on: "In earlier times, world-view was more important". Nonetheless, the idea of economics as employed by Albers is not that of the exchange of goods, in other words it is not the limited market economy. The term has a more profound, universal meaning: it is the economics of the exchanges between human beings and between them and the objects of the world.
From this broader viewpoint, the exhibition and its accompanying catalogue also explore Albers' working process and his reflection about teaching, his theoretical and practical activities, given that in this area too he was a remarkable figure: a student and later a professor at the Bauhaus in Weimar and Dessau, and a teacher at Black Mountain College and finally at Yale University, in a way comparable to few other artists Albers' life was closely linked to the two most advanced experiments in art teaching in the 20th century. The exhibition aims to emulate his pronounced pedagogical vocation and thus includes teaching material and exercises by his students at the Bauhaus and at Yale, most notably those pertaining to his final years at Yale, in the form of the student works that Albers would use to structure his celebrated text Interaction of Color.
With regard to his activities as a writer on art and educational theory and as a teacher and poet, the exhibition catalogue includes an extensive documentary section with 57 texts by Albers, 26 of them previously unpublished. In addition, it brings together 14 accounts of him by colleagues, students, art historians, essayists and writers, 4 of which are published here in English for the first time. The texts by Albers himself reveal how the uniquely economical approach that determined his artistic creation also prevailed in his theoretical reflections and in his ideas on teaching and the practice of art and design. The reader will appreciate that in the texts written by Albers between 1924 and 1966 the same, or very similar, ideas and deep-rooted convictions constantly reappear, tried and tested against his vision of the world and his experience of life. This is not, however, mere repetition or recycling, but rather an authentic "economy of distribution." In his texts, Albers made intelligent use of his ideas, "investing" them in fields as different as artistic creation, historical and contemporary consciousness, typography, art teaching, abstract art, color, design, architecture and the meaning of existence. Even the most dispassionate reading of these texts will reveal that the investment Albers made in reflecting on the most theoretical and the most practical issues throughout the course of his life was not only paid back in full but continues to offer intellectual dividends to this day.
Josef Albers: medios mínimos, efecto máximo
Fundación Juan March
Castelló 77. 28006
Madrid, España
Búsqueda para satisfacer el conocimiento de la actividad arquitectónica y tangentes que se generan. La idea es crear un espacio para divulgar los diversos proyectos en busca de nueva inspiración y de intercambio.