On Thursday, the 19th of January to them 20:00h, in the Room of Culture of the Delegation of To Corunna of the Architects' Colexio of Galicia, Jose Ramon Garitaonaindia will take place the conference of the study, on his work, inside the cycle of conferences, ITER, ITINERIS …. It will be presented by Fernando Blanco. On having finished the exhibition a round table will be realized.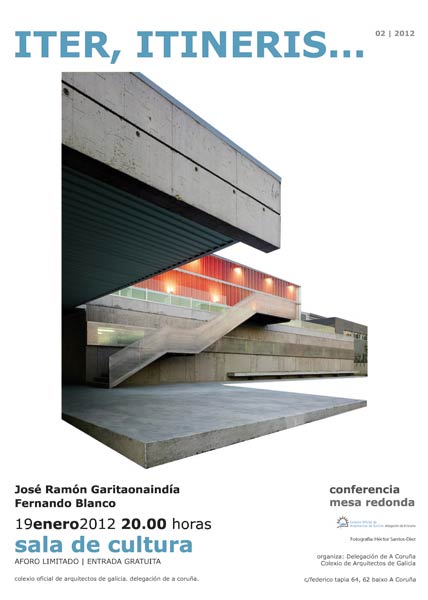 José Ramón Garitaonaindía de Vera
José Ramón Garitaonaindía, Bilbao 1966, is an architect for the School of Architecture University of Navarre in 1992, obtains the doctor's title in 1997 for the same university and in 2001 the master " Pathology and architectural restoration " for the School of Architecture University of Corunna. In the educational area it gave classes in the School of Architecture University of Navarre between 1992-1998 and from 1998 in the School of Architecture University of Corunna, being at present A Titular Teacher of the Department of Architectural Constructions, as well as in different courses, seminars and masters, between that Master stands out in Architectural Restoration of that it forms a part from the year 2000.Since investigator formed a part of different equipments of work in projects of investigation. Author of numbers articles and publications, so much of individual as joint form. His work of can find in different publications the latter year so much in books and Spanish and international magazines, as well as in specialized books. His work has been recognized by different prizes and mentions, and has formed a part of diverse exhibitions.
+ www.garitaonaindia.com
Fernando Blanco
Fernando Blanco was born in O Carballiño. It combined his studies between Madrid and Barcelona, obtaining the Architect's title for the ETSA of Barcelona in 1974.
Ciclo Iter Iteneris…
Cultura Culture
COLEXIO OFICIAL de ARQUITECTOS de GALICIA. DELEGACIÓN de A CORUÑA
Federico Tapia 64, 62 baixo – 15005, A Coruña
Galicia. Spain
Búsqueda para satisfacer el conocimiento de la actividad arquitectónica y tangentes que se generan. La idea es crear un espacio para divulgar los diversos proyectos en busca de nueva inspiración y de intercambio.