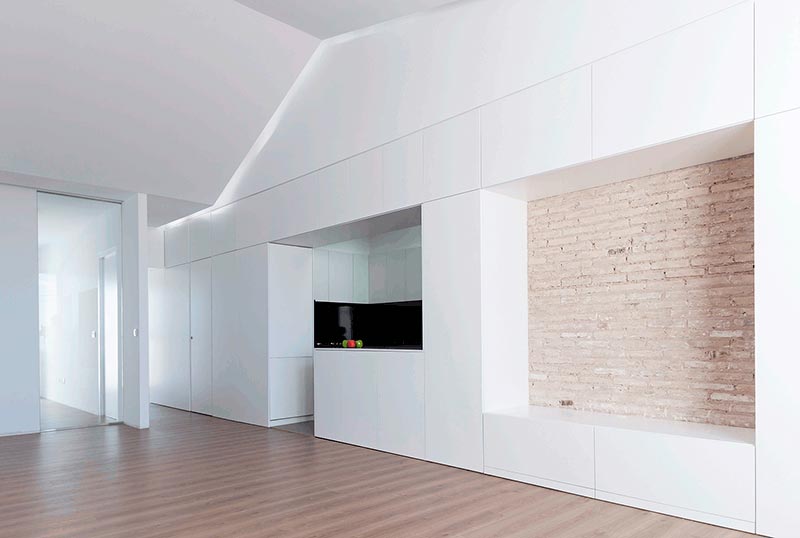 The past becomes topical dress.
The proposal of reform of this house takes us to the second widening of Valencia. Its excellent location is essential for the project, enjoying lighting and views due to its location on the top floor of the building and have two facades.
The importance of the project lies in getting a house with spatial amplitude, which counteracts the limitation of square meters available to the house. For this, two strategies are used: the first is based on height, working the false ceiling and tilting it to achieve spatial amplitude in the public part of the house; the second, to propose a diaphanous distribution, relegating the corridor to its minimum dimension, allowing the visualization of the whole house and natural lighting.
The distribution of housing is clear and concise. It consists of a day and public area linked to an outdoor terrace, formed by a diaphanous and high-rise space. In this area there is the living room, the dining room, the study and the kitchen. In the inner part and overturned to a courtyard that provides tranquility and lighting, the bedrooms are located. The whole house is unified by a longitudinal cabinet that unites both areas and serves them.
For the materialization of the home, a reduced color palette is chosen, with white being the predominant color when generating wide, aseptic and luminous spaces. The floor plan is worked with wood, which provides warmth, while for the vertical planes DM lacquered in white is used, which generates diffused reflections of the exterior. The climate and lighting installations are located in the dark ones, giving the house a clean and conceptual image.
Work: Gabled
Author: Enrique Victor Mengual, José Ramón Martínez Cañadas and Giacomo Deluca (Binomio Arquitectura)
Year: 2018
Location: Barrio de Ruzafa, Valencia, Spain
Photography: Lorenzo Franzi
+ binomio-arquitectura.com
Búsqueda para satisfacer el conocimiento de la actividad arquitectónica y tangentes que se generan. La idea es crear un espacio para divulgar los diversos proyectos en busca de nueva inspiración y de intercambio.