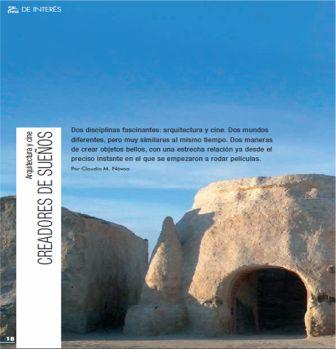 The last number hna, the magazine of the Hermandad Nacional de Arquitectos, has appeared for the first time only in digital format, saving itself the paper. In this number, Claudio M. Nóvoa writes a qualified article «Creators of dreams» (which first page I reproduce here to the side) on the relations between Architecture and Cinema, before making it it ordered me an interesting and complex questionnaire that I answered since could and he has had the amiability to arrange an appointment and even to connect this blog, then, since always, the smallest part has been published only, but I believe that it has interest and because of it I reproduce it later, even with his links:
«The climax of El día de la bestia takes place in the Torres Kio in Madrid. two buildings, inversely symmetrical, inclined in his structures. In this original scene it is where a priest interpreted by Álex Angulo, and a heavy metal, to which life gives Santiago Sure, they face the Antichrist. In game, the future of the Humanity. There it is at all. The director Álex de la Iglesia used these two giants of cement to create an apocalyptic environment. And it achieved it. After his premiere, both towers turned into the whole icon, both into the seventh art and into Madrid.

From always, the big constructions have bewitched the filmmakers, up to the point of turning them partly substantially of the plots. There there is the carnival giant King Kong, besieged – in an already mythical image – in the apex of the Empire State Building. In a later remake of 1976, the gorilla repeats, but in the sadly famous Twin Towers.

These episodes illustrate how the directors of cinema use architectural elements in his movies with a clear aim: that are an important part of the history. In turn, they constitute a small sample of the links that share architecture and cinema. From here, prepare you for an exciting trip for the relations between both worlds, where fiction and reality sometimes get confused. We will be guided by the architect and investigator cinematographic Jorge Gorostiza, one of the big experts in the matter.

It is logical that intense make friends of architecture the seventh art comes from distant view. The cinema was born mute. Of there that the creators had to throw hand of numerous resources to introduce shades that were allowing, to the spectator, to understand the real sense of what they wanted to count. Fritz Lang, with his mythical Metrópolis, is served a few spectacular buildings to accentuate his apocalyptic vision of the future. The sets in The office of the doctor Caligari, of Robert Weine, intensify the emotional imbalance of the protagonist.

Jorge Gorostiza indicates that another interesting link has to see with the form in the one that is preserved, as heritage, " buildings and places, for the fact of having been the scene of a movie ". And it puts the example of the lugubrious casona where The orphanage passes, located in Llanes's Asturian locality and with his own one it tells the history behind. Of here we jump to Tunis, country that it has cashed in to the cinematographic spirit of his landscapes. Every fanatic of The star wars will visit Ajim's city, where there is located the canteen in which Luke Skywalker knew to They Have Only. And to the north of this population, very quite close, the  Obi Wan Kenobi´s house».
And hitherto Claudio's article. I am useful to thank him.
Jorge Gorostiza, architect. Author of the blog Arquitectura+Cine+Ciudad
Santa Cruz de Tenerife, november 2010
Doctor arquitecto, proyecta y construye edificios y desarrolla trabajos de urbanismo. Desde 1990, publica numerosos artículos sobre cine y arquitectura en medios de su localidad, revistas como Nosferatu, Nickleodeon, Academia, Lateral, Cahiers du Cinema… y en varios volúmenes colectivos. Entre el 2000 y el 2005 dirige la Filmoteca Canaria. Imparte conferencias sobre arquitectura y cine en instituciones como el CAAM en Gran Canaria, la UIMP, el CENDEAC en Murcia, INCUNA en Gijón, Fundación Telefónica, la ETS de Arquitectura y el CCCB de Barcelona, las ETS de Arquitectura de La Coruña, Sevilla, Valencia y SEU madrileña, La Ciudad de la Luz en Alicante, la UNED en Pamplona, en varios colegios de arquitectos, así como en las universidades del País Vasco, Gerona, Valladolid, Málaga, Granada, SEK en Segovia y CEES de Madrid. Jurado en varios festivales cinematográficos, como los de Alcalá de Henares (2001), San Sebastián (2002), Sitges (2003), Las Palmas (2005) y Documentamadrid (2005), y comisario de las exposiciones Constructores de quimeras. (Centro Conde Duque, Madrid, 1999) y La arquitectura de los sueños (Capilla del Oidor, Alcalá de Henares, 2001).
He publicado bastantes libros y muchos artículos, he impartido conferencias, he sido comisario de exposiciones y jurado en muchísmos festivales. Si quieren saber más no duden en consultar mi blog ARQUITECTURA + CINE + CIUDAD.