The talk will turn around the new typologies of urbanismo temporary that poses the contemporary city, and will be to charge of the architect Marcella Del Signore. In the conference Prototipar the temporary city, that will take place next Tuesday 30 October in the IAAC, the architect Marcella Del Signore reflexionará on which type of temporary answers can apply to concrete urban problems, with the end to act of immediate way in front of the deficiencies that presents the urbanismo local. The investigations of Of the Signore take the notion of temporalidad like a crucial element in the strategic definition of the contemporary city.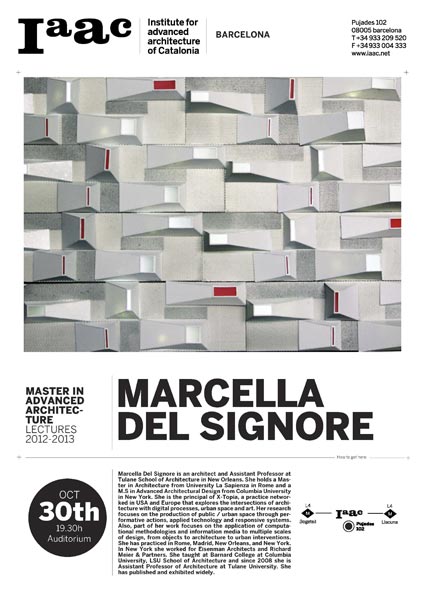 Marcella Del Signore, graduate in Architecture Advanced in the University of Sapienza of Rome, and with a Máster in Architecture Advanced in the University of Columbia, is director of X-Topia, a ciber-platform that explores the connections between the design, the digital processes, the urban space and the art. His investigation centres  in the understanding and the development of the public and urban space through actions performativas, technology applied and digital processes.
The Institute of Architecture Advanced of Catalonia is an academic centre and of investigation of avant-garde whose aim is to promote the scientific and technological innovation in the conception, design and construction of the human habitat to all the scales (from the bits until the geography), integrating the technological innovations, cultural and social of our time, and contributing to the consolidation of Barcelona like global platform of reflection and innovation.
Conference of the architect Marcella Del Signore in the IAAC
Title: Prototyping the temporary city (Prototipar la ciudad temporal)
Date: Tuesday, 30 October 2012
Hour: 19:30h
Locationr: IAAC, Instituto de Arquitectura Avanzada de Cataluña (Pujades 102, Barcelona)
Búsqueda para satisfacer el conocimiento de la actividad arquitectónica y tangentes que se generan. La idea es crear un espacio para divulgar los diversos proyectos en busca de nueva inspiración y de intercambio.