for javier and carlos, companions of trip
It is possible to think about the constructions of Jorn Utzon as clear surrounded by a forest. It is like that in Khan Lis, his first housing in Majorca, where the house arranges carefully between the pines, avoiding them here and there, looking for a place between them, to come to the sea. In the simple sketch that establishes the Khan's section Lis, the small ones and almost imperceptible movements of the pen they draw nevertheless accurately the fundamental events: the pinegrove and the cliff, the elevation of the constructed soil, the court in which it seems to penetrate the grove, the high space of the room and the low space of the loopholes towards the sea. Quite delicately drawn in scarcely three thick ones of ink.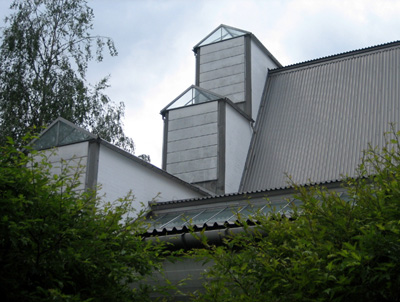 A little time later, for the contario, on having constructed Bagsvaerd's church the clear one originates before that the forest, because this one is necessary in order that that one has just existed. And Utzon at the time constructs it, because this forest, already it exists or is for coming, is an element of construction more, so importantly as the brick or the concrete for the creation of a place. Thus, Bagsvaerd will not will to exist fullly until the surrounding trees reach his final size and Utzon has this conviction so clear that he itself finances the plantation of birches that surround the building.
Today, on having walked towards the church, his modest and opaque fronts encourage with the dance of light and shade that provokes the wind when the branches wave of now already big trees. In the interior this opaqueness transforms in intense clarity while the branches continue dancing non-stop on the glazed roofs of the corridors.
José Valladares
santiago de compostela. march 2012
Arquitecto por la ETSA Barcelona, 1996 y socio fundador del estudio rvr arquitectos ubicado en Santiago de Compostela.