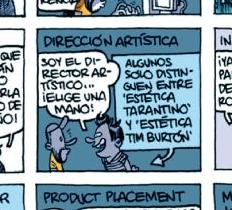 In a previous entry he was speaking on an article that Jesus Palacios had entrusted me for el50, the newspaper of 50 ª edition of the Festival Internacional de Cine de Gijón that was published in his first number, in which there is a cómic very entertained of qualified Monteys «How is movie done?»..
One of his emblems, which I reproduce, has relation with the artistic direction. The personage of the left side with cap is the director and that of the right the set designer. Monteys in the rest of the cómic shows to the first one as a victim and in this one in addition it is the object of the jeer of the art director, which it an ignoramus considers and at the same time Burton and Tarantino appears as a professional with few resources – apparently they look like only two-, smilingly, young woman, with long hair excited and dressed in a pole of stripes.
Evidently it is a question of a parody in which I suppose that one does not try to hurt the susceptibilities of any cinematographic union, and this explanation is done just in case the draftsman and scriptwriter is denounced by someone by little sense of the humor.
In this current world in which it has triumphed the politically correct thing already does not have the humor fitted and up to the most unsuspected social group he can feel offended by the most trivial thing, taking to the courts anyone.
Jorge Gorostiza, architect. Author of the blog Arquitectura+Cine+Ciudad
Santa Cruz de Tenerife, february 2013
Doctor arquitecto, proyecta y construye edificios y desarrolla trabajos de urbanismo. Desde 1990, publica numerosos artículos sobre cine y arquitectura en medios de su localidad, revistas como Nosferatu, Nickleodeon, Academia, Lateral, Cahiers du Cinema… y en varios volúmenes colectivos. Entre el 2000 y el 2005 dirige la Filmoteca Canaria. Imparte conferencias sobre arquitectura y cine en instituciones como el CAAM en Gran Canaria, la UIMP, el CENDEAC en Murcia, INCUNA en Gijón, Fundación Telefónica, la ETS de Arquitectura y el CCCB de Barcelona, las ETS de Arquitectura de La Coruña, Sevilla, Valencia y SEU madrileña, La Ciudad de la Luz en Alicante, la UNED en Pamplona, en varios colegios de arquitectos, así como en las universidades del País Vasco, Gerona, Valladolid, Málaga, Granada, SEK en Segovia y CEES de Madrid. Jurado en varios festivales cinematográficos, como los de Alcalá de Henares (2001), San Sebastián (2002), Sitges (2003), Las Palmas (2005) y Documentamadrid (2005), y comisario de las exposiciones Constructores de quimeras. (Centro Conde Duque, Madrid, 1999) y La arquitectura de los sueños (Capilla del Oidor, Alcalá de Henares, 2001).
He publicado bastantes libros y muchos artículos, he impartido conferencias, he sido comisario de exposiciones y jurado en muchísmos festivales. Si quieren saber más no duden en consultar mi blog ARQUITECTURA + CINE + CIUDAD.