The plot is in Medelo's parish, in rustic soil, in Silleda's municipal area (Pontevedra). The preexistence on which we had to act was a singular house with certain excellence constituted by several traditional buildings with fronts to four winds that were forming a unit of agricultural and cattle production.
The set was in condition of abandon for more than 25 years, with the consistent deterioration of his constructive elements. Nevertheless, it had not suffered alterations tipológicas important to the margin of the small one added of factory of brick attached to the blind front of the alpendre.
Both for his constructive characteristics and for his implantation it constitutes an example of popular architecture of undoubted quality that was necessary to be preserved and promoted.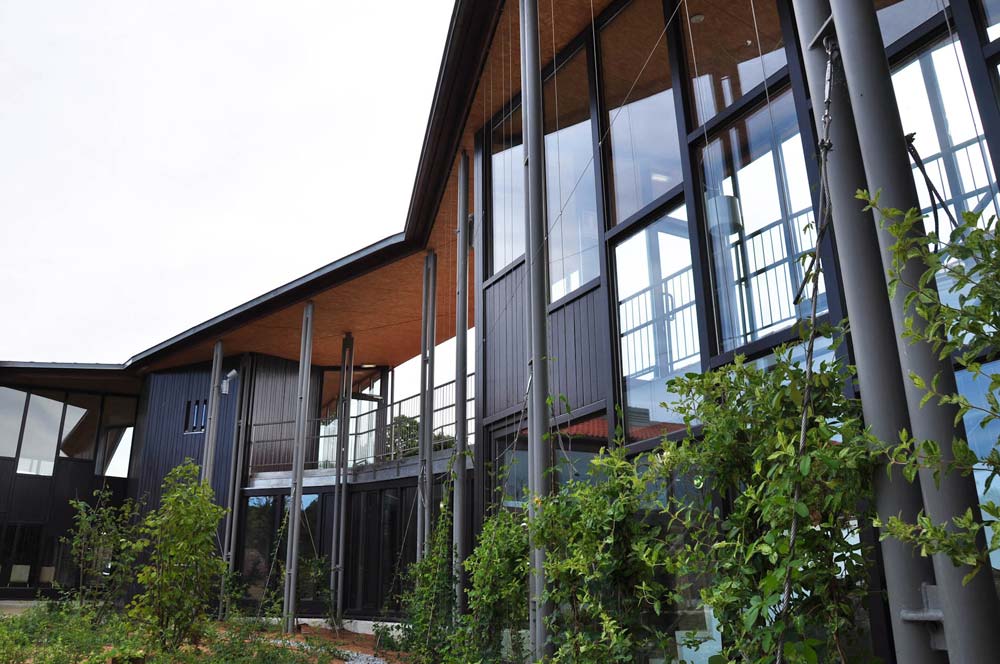 The foreseen use is that of " Center of resources for persons with disability ". It is a question of an installation that it will allow to cover the specific services orientated to the occupational and professional formation together with the needs of social attention of this group in the zone.
Once measured the existing and compared buildings his surfaces with the demanded for the program, there is verified that there is necessary the construction of a new volume that receives the access, the elements of vertical communication and the spaces of traffic that connects three pieces by means of adapted tours and to cutlery, and ability to the set of areas of scattering protected that allow to the users to take part of the natural immediate environment.
We depart that was necessary to support entirely the volumetry and the characteristics tipológicas the constructions. There is solved, this way, a new volume that, by means of a more organic geometry, he adapts his different levels and his plane of cover to the crossbeams, forged and cornices of existing edificaciones and to the minimal height demanded for the hollow of the elevator.
Of this form there is obtained certain formal expressiveness that turns out to be effective as strategy of intervention and that answers to multiple references; it is a question of attending, for example, to such suggestions as the topography and the form in which the vegetation had colonized the exterior of the different paraments.
Work: Center of Resources for Persons with Disability
Useful surface: 874,79m2
Constructed Surface: 1.125,07m2
Architects: Arrokabe arquitectos [Óscar Andrés Quintela, Iván Andrés Quintela,Lourdes Pérez Castro]
Location: Medelo. Silleda. Pontevedra. Galicia. Spain
Year: 2009 – 2012
Collaborators: Bernardo Diéguez Morán (Rigger and photographer, INOUS enxeñería global (Engineers), Emilia Castro Villaverde ( vegetation technical Assistance)
Promoter: COGAMI (Confederación Galega de Persoas con Discapacidade)
Photographies: Bernardo Diéguez Morán and Arrokabe Arquitectos
Awards
– Manuel Vázquez Román 2013 Award
First prize
– International prize VETECO/ASEFAVE 2012.-
Reward to the action in rehabilitation
– A-PLUS Awards 2012.-
Finalist (3 selected ones) Better Building for the Education
Búsqueda para satisfacer el conocimiento de la actividad arquitectónica y tangentes que se generan. La idea es crear un espacio para divulgar los diversos proyectos en busca de nueva inspiración y de intercambio.