The project has a dual nature: global in the basic part; individual in the executive part. That is to say, there is programmed the arrangement of joint form but it develops in an individual or specific way, according to the requirements of every client and his circumstance.
It wants to be said by it that both the project and the work have lengthened in the time, since the phase of execution has been incorporating new clients, who have demanded new needs.
Let's sense beforehand here, so, the complete project and the work already finished, that is to say, with each of seven housings already complete, occupied for his tenants and fullly in service.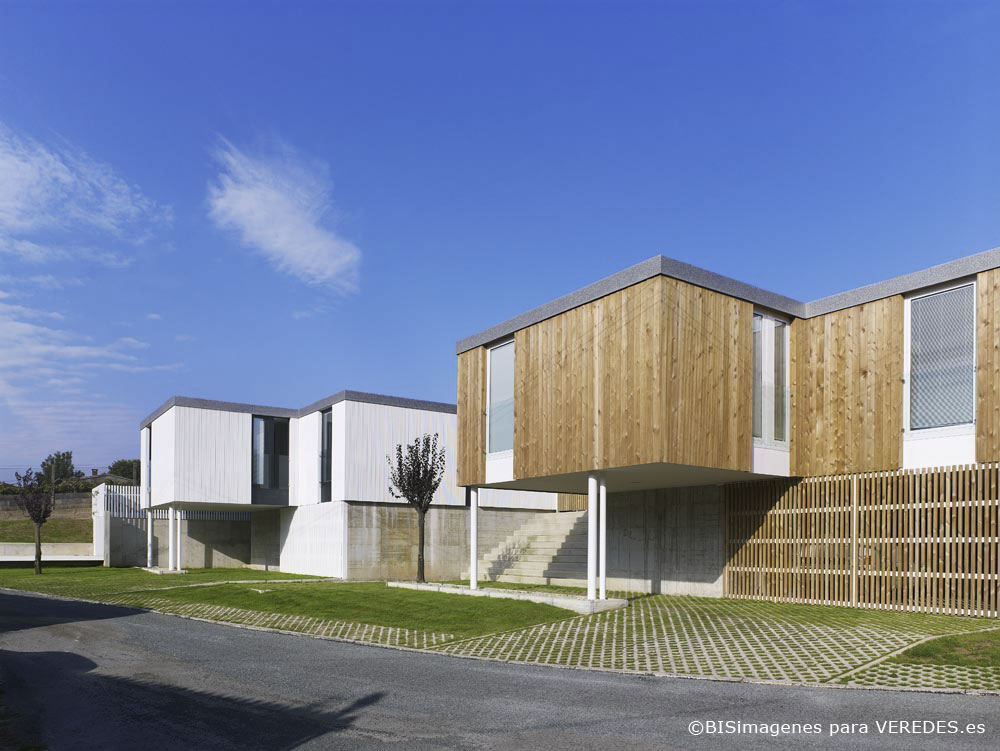 For all this, to the global project seven different processes correspond to him, though only in the administrative area.
Two systems in one: of occupation of the territory the first one, of construction of modular housings the second one.
The way of behaving, that this predetermined and is not modified; the way of behaving, that is adaptable and depends on the circumstances.
The system of territorial occupation: the use of plots of programming allows to adapt to the circumstances.
The continuous one who contemplates all the shades and allows diverse gradients. It contracts or gets spongy from his contact with the preexistences: it interacts. An alive, programmed, planned organism, which reacts for contact.
The system of modular construction: a plot of 4x4m uses as guideline:
Flexible system, which one adapts to the specific conditions of the plot, first; to the changeable demands of the program, later.
The dry meeting presides at the whole constructive system.
A studding of prefabricated walls of concrete constitutes the skeleton of the organism:
An adaptable, variable skin, as a case of acquittance and put: it does the membrane times of transition between exterior and interior, between publicly and privately.
An essentially uniform entity though circunstancialmente multiforme.
Work: ADDOMO Modular Houses in Covas
Architects redactores: Alfonso Salgado Suárez, architect + Francisco X. Liñares Túñez, architect + Manuel To. Liñares Túñez, industrial engineer
Collaborator: Carla Agra, Miguel Raposo, Sergio Sánchez
Direction of the work: Alfonso Salgado, Francisco Liñares
Structures: Manuel Liñares
Installations: Manuel Liñares, Miguel Raposo
Draw: Sergio Sánchez and Carla Agra García
Promoter: ADDOMO_modular architecture
Company constructor: Have you Modular Constructions, S.L.
Price m2 of house:
⎯ Price house (surface built of 100m2) with SYSTEM ADDOMO CONCRETE: 70.000 euros (product finished).
⎯ Price house (surface built of 100m2)with SYSTEM ADDOM
Year: Date of ending of the work Abril 2011
Emplazamiento: Covas. You love. A Coruña. Spain.
Photographys: Héctor Santos-Díez | BISimages+ Javier Ramos
Búsqueda para satisfacer el conocimiento de la actividad arquitectónica y tangentes que se generan. La idea es crear un espacio para divulgar los diversos proyectos en busca de nueva inspiración y de intercambio.