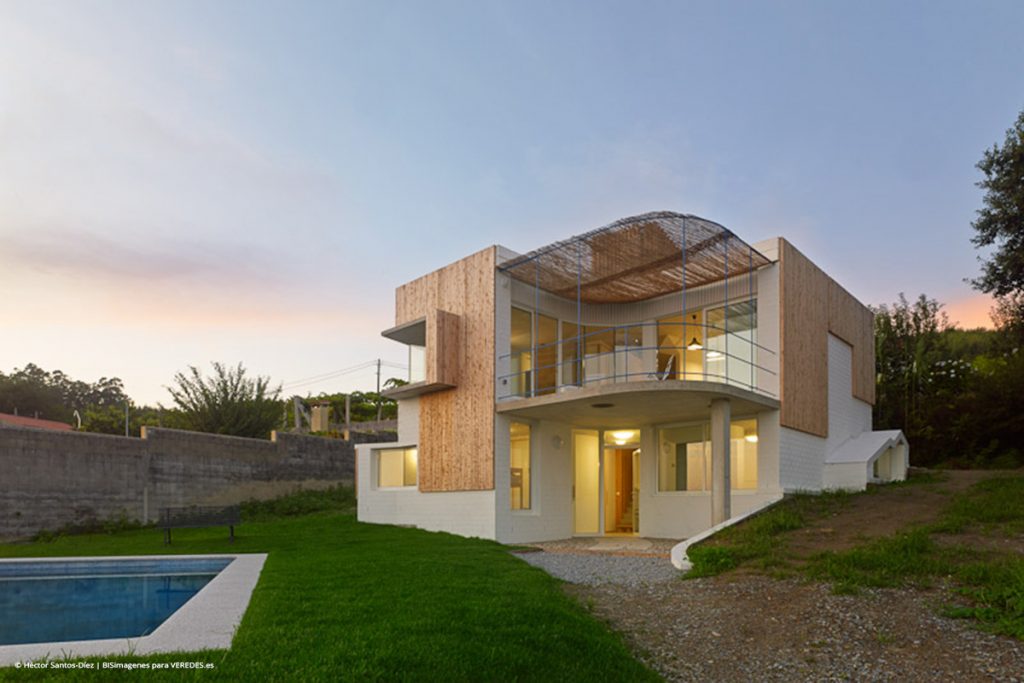 This housing in Sanxenxo, appears initially as the second residence to be used as place of meeting. Placed in a plot in earring, with orientation north – south and conference to the ocean.
The project seeks to do a domestic piece, compacts on the outside and liberated in the interior. It is located in the highest part of the plot to incorporate to the maximum better conference.
It is distributed in two plants, investing the traditional program of the housing:
The bedrooms placed in ground floor, all opened for the only space, using one sliding doors in corner that they them distinguish simultaneously that does them participants of the same space when they are opened.
In high plant, the only diaphanous space opened for the landscape, with all the common spaces of the housing (lounge, to be, dining room, kitchen, study and bathroom). Conference framed in the southern part protected with a pergola in the terrace and a visor of concrete in a large window. The incident solar radiation filters without losing lighting.
As end of tour, the stairs land in the roof used as terrace viewing-point and solarium.
One works the materiality from the economy of means and the constructive simplicity, where the material appears without ended. Constructive traditional systems of structure of walls ambles and slabs of concrete.
Choice and placement of materials marked by location in marine environment and very sniffed zone.
The closing is a front transventilada of wood of cypress, without ended, without brushing, with double chamber of air. Wood of cypress is chosen for being a local, stable wood, does not decay and resistant to fungi and insects. Traditionally tied to the construction of ships or to the employment in marine environment, rejecting the pine and any other wood of tropical origin.
Work: House in Sanxenxo
Author: Ameneiros Rey · HH arquitectos (Ismael Ameneiros Rodriguez + Santiago Rey Conde)
Collaborators: Tamara Vila Dacal y David Robles Redondo (arquitectos)
Location: Padriñan, Sanxenxo, Galicia, Spain
Building company: Seistag Innovación S.L.
Woodwork: Juan Varela Pampin
Dates construction: 2016
Photography: Héctor Santos-Díez | BISimages
+ ameneirosrey.com