Four volumes of similar proportions receive the whole program of the house.
In order to allow the vision of the landscape of bank that borders on the irrigation Luceiro, they go adapting and carelessly earring that presents the plot eastward.
They connect across the zones of traffic, the minor height.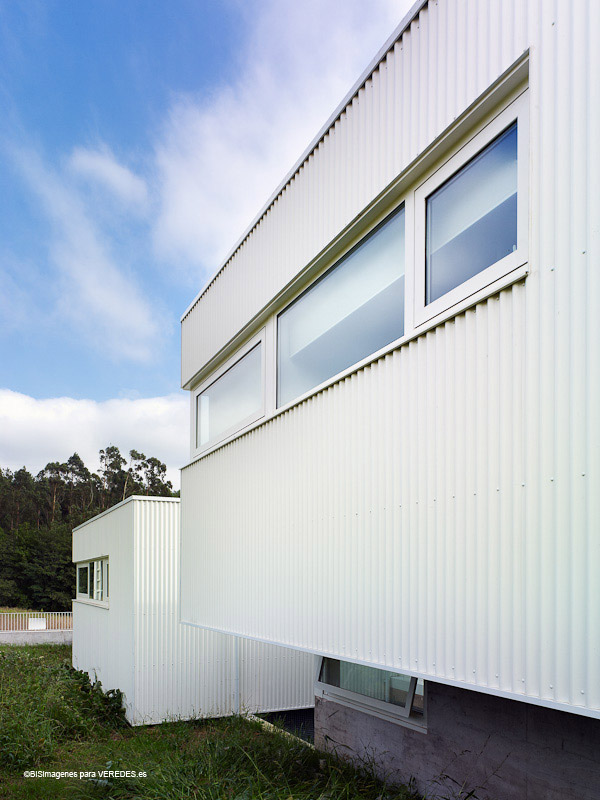 End of sheet corrugada of white aluminium it finishes the volumes of the pieces vivideras.
The continuous socle of concrete on which they settle, turns into a semibasement to receive to the workshop.
In the front of the plot the garage also is constructed in concrete.
Work: House in A Igrexa
Location: A Igrexa, Covas, Ames, Galicia, Spain
Architects editors: Alfonso Salgado and Francisco Liñares
Arquitect collaborator: Carla Agra
Direction of work: Alfonso Salgado, Francisco Liñares and Carla Agra
Structure: Manuel Liñares
Facilities: Manuel Liñares e Miguel Raposo
Drawning: Carla Agra
Lighting: ToKonoma
Construction company: Constructions J.Luis Beiras S.L
Date of license: on November 13, 2009
Date of end of work: March, 2011
Photography: Héctor Santos-Díez | BISimages
Búsqueda para satisfacer el conocimiento de la actividad arquitectónica y tangentes que se generan. La idea es crear un espacio para divulgar los diversos proyectos en busca de nueva inspiración y de intercambio.