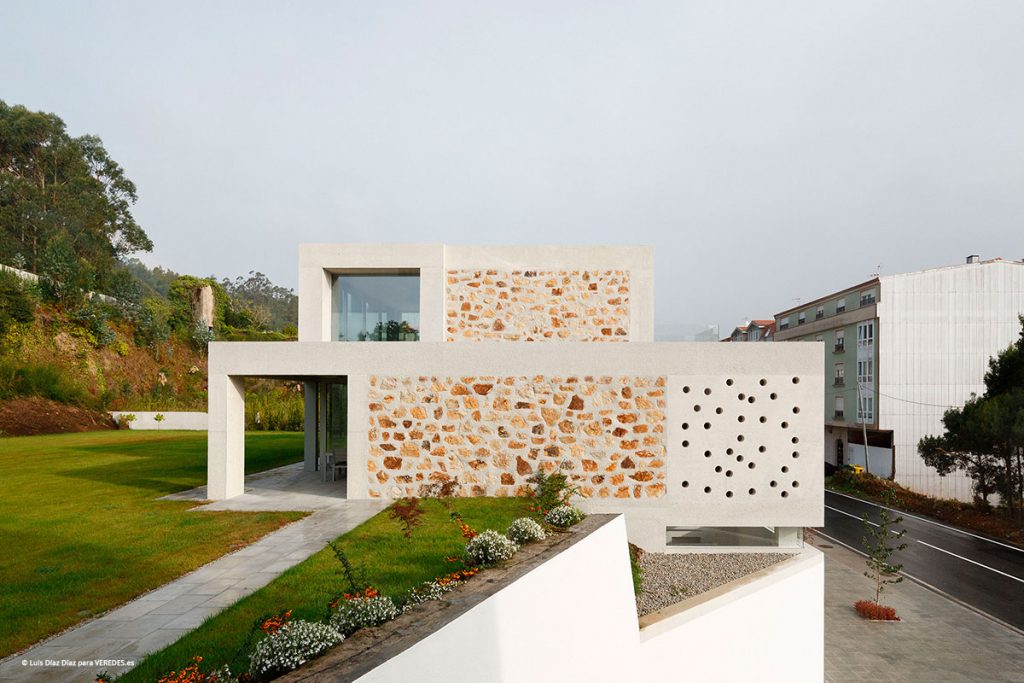 The house is located on a high ground 3.5 meters above the road. It is an area of growth of the main urban core where, over the years, 4 and 5-storey housing blocks have been appearing. The planning establishes an alignment that involves the demolition of the retaining wall of the farm and the construction of the entire front of the plot facing east. The decision not to consume the permitted building and build a detached house is related to the interest in family property and the maintenance of its character linked to the garden and fruit trees. On the back, west, adjoins the high slope of a hill planted with eucalyptus.
The presence of the height jump between the ground floor (at street level) and the top floor (at the farm level), involves the replacement of the retaining wall by the house itself, which becomes a very influential argument in its materialization . Thus, towards the road, the ground floor maintains the idea of painted wall, and the upper one, separated from it by a broken window, is related and overturned towards the farm. Two independent volumes superimposed, with facade construction systems and different finishes. Below, the entrance doors and garage, warehouses and facilities, all painted white. Above, the main program of the house, a volume of stone and concrete. Between the two, the ladder, playing with the materiality of both and the entrance of light.
The distribution of the main floor also responds to the relationships established by the rooms with the "faces" of the house, posing its position around a central piece of service with the block of bathrooms and closets. On one of the long sides, the children's rooms, facing the road and facing east, where they have experimented with the flexibility of use, making the mobile partitions for, joining them in different ways, easily vary their number and surface. On the other, the living room, towards the farm, facing west. Sharing both orientations, in one of the ends, the kitchen with the tendal in the corner of holed front. In the opposite, the main room giving onto the garden and the bathroom-dressing room with overhead light and blind facade to the road.
In contact with the garden, part of the room is made at double height and the staircase appears again as an element that resolves a change of the interior volume, giving access to a small upper floor of study and guest room.
The bush-hammered concrete of the exterior structure also appears in parts of the interior for the creation of breastplates and small staggered volumes that support oak stairs and pavements.
In front of the facade to the road and borders, stony and with few gaps, most of the façade to the garden is glazed because, on this floor, the relationship with the terrain and the good afternoon orientation, make it a space very nice to be.
Work: CASA C in Costa da Morte
Project Date / Completion: April 2015 / May 2017
Collaborators: Bárbara Mesquita, Celsa Pesqueira, Iago Otero, Mónica Rodríguez, Sara Escudero, Alicia Balbás, Elena Junquera
Construction company: José Manuel Rodríguez Garrido
Rigger: Ana Leo Fernández
Structure: Féliz Suárez Riestra
Facilities: Isabel Francos Anllo
Photography: Luís Díaz Díaz / Héctor Santos-Díez
+ creusecarrasco.es