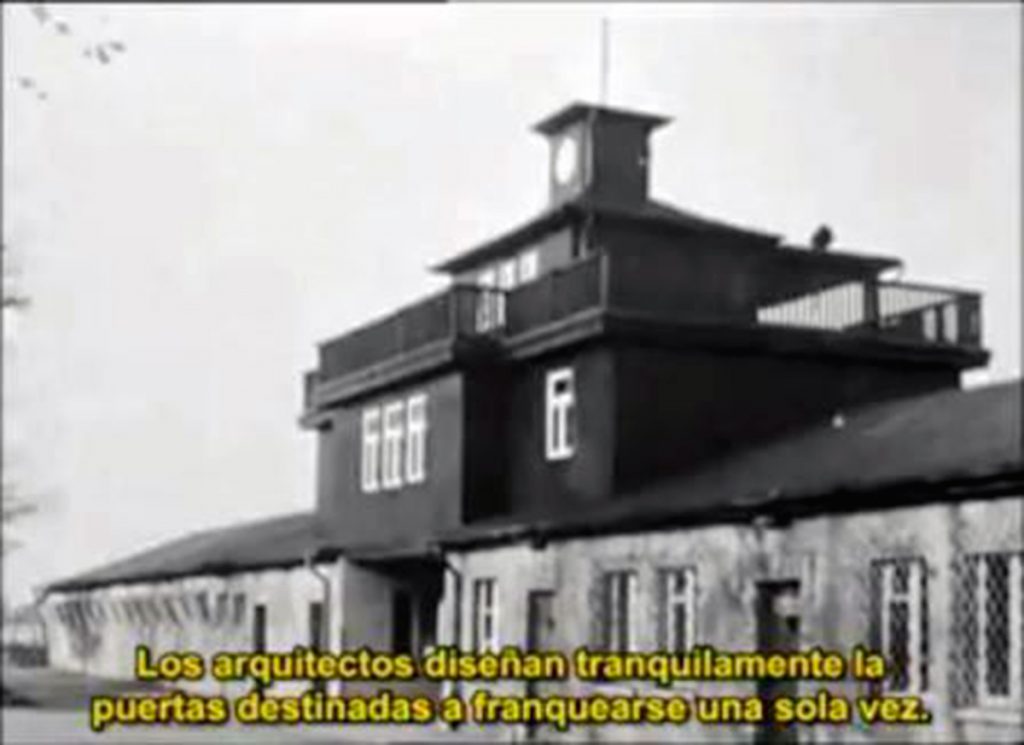 Today, when racism grows, supported by groups and political parties that take advantage of hatred to gain supporters and votes, today it is fundamental to remember what happened and nobody could believe that it was happening, because it could not be conceived that educated people, belonging to a advanced country, cultured and European, nor any human being, was able to conceive and realize a killing machine as monstrous as the concentration camps.
Today when you write about filmmakers and architects, such as «Leni» Riefenstahl and Albert Speer, with benevolence and even admiration, do not forget that they and several thousand others were guilty by action or by omission of this horror, that murderer to millions of people, just because they belong to a race or have certain political beliefs, but we can not forget that nowadays others can (can we?) be equally guilty of the current situation.
We have to see again the magnificent short film Noche y niebla, directed by Alain Resnais in 1955, in which we talk about the responsibility of many professionals, including architects, some former students of the Bauhaus:
«A concentration camp is built like a stadium or a big hotel: with investors, estimates, with the competition and without a doubt, the odd bribe. There is no specific style, it is left to the imagination. Alpine style, garage style, Japanese style, no style…

The architects quietly design the doors destined to be opened only once. Meanwhile, Burger, a German worker; Stern, a Jewish student in Amsterdam; Schmulski, a merchant in Krakow; and Anette, a student in Bordeaux, take care of their daily lives, without knowing that a thousand kilometers from their homes they already have a place assigned.

And the day their blocks are finished, the only thing that is missing are them».
Will there be places assigned today??
Jorge Gorostiza, Doctor arquitecto.
Santa Cruz de Tenerife, julio 2018
Autor del blog Arquitectura+Cine+Ciudad
Doctor arquitecto, proyecta y construye edificios y desarrolla trabajos de urbanismo. Desde 1990, publica numerosos artículos sobre cine y arquitectura en medios de su localidad, revistas como Nosferatu, Nickleodeon, Academia, Lateral, Cahiers du Cinema… y en varios volúmenes colectivos. Entre el 2000 y el 2005 dirige la Filmoteca Canaria. Imparte conferencias sobre arquitectura y cine en instituciones como el CAAM en Gran Canaria, la UIMP, el CENDEAC en Murcia, INCUNA en Gijón, Fundación Telefónica, la ETS de Arquitectura y el CCCB de Barcelona, las ETS de Arquitectura de La Coruña, Sevilla, Valencia y SEU madrileña, La Ciudad de la Luz en Alicante, la UNED en Pamplona, en varios colegios de arquitectos, así como en las universidades del País Vasco, Gerona, Valladolid, Málaga, Granada, SEK en Segovia y CEES de Madrid. Jurado en varios festivales cinematográficos, como los de Alcalá de Henares (2001), San Sebastián (2002), Sitges (2003), Las Palmas (2005) y Documentamadrid (2005), y comisario de las exposiciones Constructores de quimeras. (Centro Conde Duque, Madrid, 1999) y La arquitectura de los sueños (Capilla del Oidor, Alcalá de Henares, 2001).
He publicado bastantes libros y muchos artículos, he impartido conferencias, he sido comisario de exposiciones y jurado en muchísmos festivales. Si quieren saber más no duden en consultar mi blog ARQUITECTURA + CINE + CIUDAD.