Crossed by the pictorial work of the native of Corunna Antonio Tenreiro Brochón (A Coruña, 1923-2006), author who formed a part of the same generation of artists herculinos as Labra, Molezún, Lago Rivera or Mampaso, and that was characterized by a poetical vision and intimist one of his environment.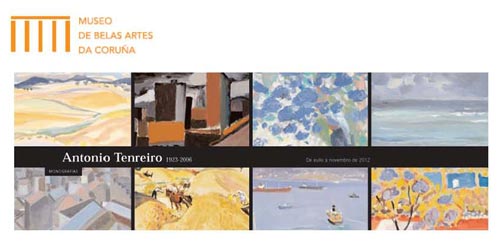 Across more than two hundred works, between oils, drawings and water-colors, the artistic evolution appears following the different stages of Antonio Tenreiro's pictorial work: his stage of formation in Madrid, in which it alternated his studies of architecture with multiple trips for Europe; in the 50 until beginning of the 70, coinciding with his return to Corunna, moment in the one that developed that might be considered to be his more personal stage, the black stage characterized by the use of a dark palette, in the buck of the quoits and blacks; the decade of the 70, much more colourist; and from beginning of the 80 up to his death, in which his work a more poetical tone and intimist one happened to acquire, and in that they predominated over topics like the interiors, the sights from his window and the taverns.
With this sample, the Museum of Fine arts closes the program of exhibitions for the present year, simultaneously that initiates the publication of a series of monographs on Galician artists in that, beside studying and to analyze the artistic and vital paths of each one of the authors, one will try to recover and for in value the work and activity of so many people of them that today they turn out to be very little acquaintances or marry to what strangers for the public. Of this form, the museum turns into space of investigation and debates where to lay the foundations of future works of cultural spreading.
Antonio Tenreiro (1923-2006)
Monographic exhibition
on July 27 – November 25, 2012
[mappress mapid="72″]
+ museobelasartescoruna.xunta.es
Búsqueda para satisfacer el conocimiento de la actividad arquitectónica y tangentes que se generan. La idea es crear un espacio para divulgar los diversos proyectos en busca de nueva inspiración y de intercambio.