Analyzing the furniture to sit down, the silla and others, as a way of seeing and to approach the architectural fact. To see the chairs as one of the most basic acciónes of the citizen, her of taking seat, to do place and later architecture. The idea of the seat – furniture will be approached as architecture – machine and of equal form the architecture like domestic action gives and loclizadora for the seat. Both perspectives try to unfold and to subvert the architecture looking which are the powers and the most primary dialogs of use towards the inhabitant, giving rest and relief at the same time as enriching his vital and social actions.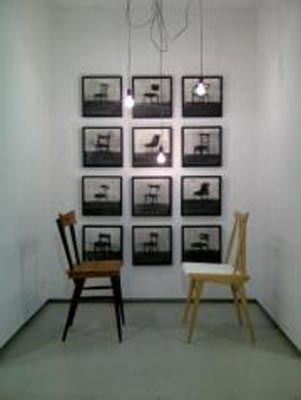 Also UnDo ReDo's project will be approached as place of meeting and reflection on the furniture, very specially the chairs, inside and about the architecture. Meeting, rehabilitation, interpretation and care of the furniture according to the philosophy of work of the missing person artist Louise Bourgeois I do, I undo, I redo. The furniture always have accompanied to the architecture, are the architecture inside the architecture, and very especially the table and the chair. A minor architecture like San Jerónimo's office, represented in Antonello de Messina's picture, which interferes inside previous other one, to return to create a place and a minor, but clearly definite function, in the major universe of the architecture. A fractal that plays with the scales and with our trade in order that we adapt the work and the reflection of the architect from the city to the house, like Aldo van Eyck, and furthermore inside, with a view to the domestic thing.
Chairs and tables, interior accent that restructures a world more near the scale of the human body, and of the most natural uses to his being, to eat, to work, to chat.
A tour about the chair and a stop in UnDo ReDo. CRISTINA NIETO Y LUiS GIL.
The sample that UnDo ReDo announces is a constant selection of furniture that come to the gallery, since to the hospital of things of someone of the literary prominent figures of Paul Auster, to reread the creative action of designers and architects of an immediate past, and check critically which are our current needs in relation to this small great part of the architecture that they are the furniture and that so much we are interested in sharing now in the workshop of the Atlantic gallery Center of Art Holy Rúa Novoa, 13, in parallel and as complement to Pinturade Oscar's exhibition Cabana.
[mappress mapid="33″]
Búsqueda para satisfacer el conocimiento de la actividad arquitectónica y tangentes que se generan. La idea es crear un espacio para divulgar los diversos proyectos en busca de nueva inspiración y de intercambio.