The Muros chair is an object that there is born fruit of a project of rehabilitation that we are taking to end in domohomo architects, in the villa that gives name to this furniture and where the majority of the elements are realized by wood of chestnut-tree, structure, panelings, carpentries, coatings, etc.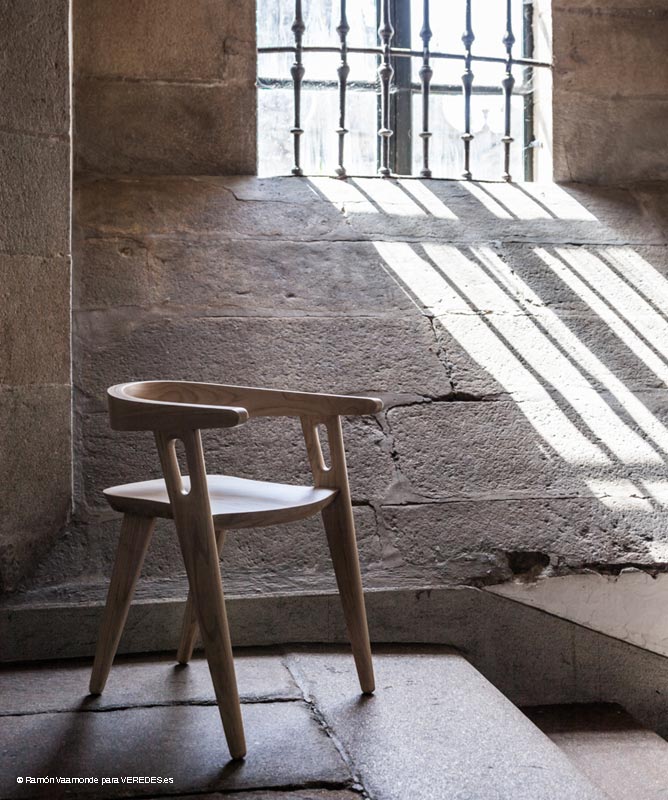 Of this so narrow nearness with this material and of so much meant in Galicia, it emerges the desire to continue it working and to explore all his limits.
Thus, the Muros chair turns into a place of experimentation, where the hands of a local carpenter make possible the imagined.
It is a question of a handcrafted work where ensamblan nine pieces of wood it until forms the Muros chair.
Undoubtedly, the piece that has presented major difficulty in his manufacture has been the support. In the first moment, it splits of a conventional section of massive wood of chestnut-tree and is laminated, doing leaves of wood of approximately 2 mm of thickness.
Later, one proceeds to realize a mold with the wished curvature and, finally, to stick all these sheets I half-close to this established profile.
In this case, the support also is rests arms and they do of the chair a comfortable, ideal seat for the reading or to enjoy of a few good conference.
Author: Xulio Turnes Vieito
Collaborators: Elena López Fernández
Promoter: domohomo arquitectos and Alba Fernández Arias
Carpneter: Carpintería Gestoso
Woord: Massive chestnut-tree, castanea sativa
Photographies of assembly: domohomo arquitectos
Photography: Ramón Vaamonde
+ domohomo.es
Búsqueda para satisfacer el conocimiento de la actividad arquitectónica y tangentes que se generan. La idea es crear un espacio para divulgar los diversos proyectos en busca de nueva inspiración y de intercambio.