The Platform of Engineering of the Structural Wood (PEMADE) of the University of Santiago de Compostela, the edition offers 2012/13 Máster in Engineering of the Structural Wood title of own postdegree only one of the USC in Spain of his characteristics. It has character semipresencial with the possibility of being present at some "on-line" classes, a school load of 500 hours and his educational picture is shaped by 61 teachers of different universities and companies of the sector. Máster in Engineering of lEstructural [2012-13]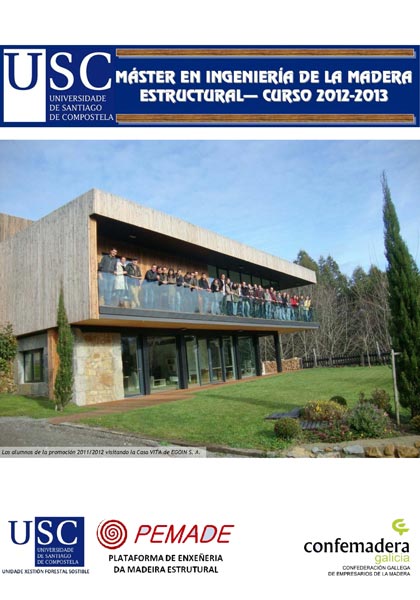 The máster possesses the sponsorship of the Businessmen's Galician Federation of the Wood (Confemadera) as well as with the support and collaboration of diverse entities and companies (Colexio Oficial de Arquitectos de Galicia, Happens Madeira, Technological and Forest Center of the Madeira – CETEMAS-, Cadwork, Rothoblaas and Wood Rubén, between others). After the term of preinscripción initial, we have free squares, for what we extend the term until the next July 23. In this new term, the admission will be realized by strict order of preinscripción. We attach several links where it is possible to consult him an informative dossier that contains the most prominent characteristics of the course as well as the program and calendar of the same one:
· Informa tiveDossier
· Program and calendar
[mappress mapid="49″]
Búsqueda para satisfacer el conocimiento de la actividad arquitectónica y tangentes que se generan. La idea es crear un espacio para divulgar los diversos proyectos en busca de nueva inspiración y de intercambio.